The Bears School Outreach program wrapped up its 15th successful season on Tuesday, December 18 when tight end Kyle Adams visited Mayo Elementary School, safety Chris Conte appeared at Frederick Douglass Academy High School and guard Edwin Williams visited Marshall High School in Chicago.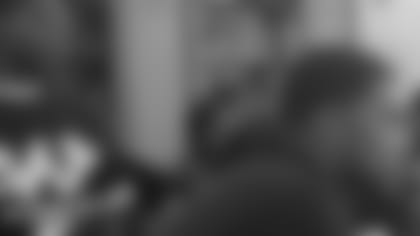 Jason Campbell
Through a partnership with Youth Guidance, Chicago Bears players visited various Chicago Public Schools throughout the football season to speak to, motivate, and interact with students who are part of the B.A.M (Becoming a Man) and W.O.W. (Working on Womanhood) programs. The discussions between the players and students were led by Youth Guidance counselors and focused on the five core values of B.A.M. and W.O.W.—visionary goal-setting, positive anger expression, self-determination, emotional intelligence and leadership. The players also stressed the importance of pursuing secondary education after graduating from high school.
Players who participated in the Bears School Outreach program in 2012 included Kyle Adams, Armando Allen, Zack Bowman, Jason Campbell, Chris Conte, Blake Costanzo, Josh McCown, D.J. Moore, Julius Peppers, Craig Steltz, J'Marcus Webb, Edwin Williams and Corey Wootton.
Bears School Outreach is brought to you by the University of Phoenix, the Official Education Partner of the Chicago Bears.
Youth Guidance is a leading provider of outcome-driven, school-based programs and capacity-building initiatives, serving more than 14,000 at-risk youth in 70 Chicago Public and charter schools. Each Youth Guidance program has been strategically developed to address a community need that falls within one of three specific program delivery areas: Community & After-School, Counseling & Prevention and Youth Workforce Development. 90% of students served are low income, and more than 95% are African American and Hispanic/Latino.
To learn more about Youth Guidance to see videos from some of this year's Bears School Outreach visits, please go to www.youth-guidance.org.