The Bears will try to win their third straight home game and improve to 6-7 on the season Thursday night when they host the Dallas Cowboys at Soldier Field.
Both teams are coming off disappointing Thanksgiving losses. The Bears (5-7) blew an early 14-3 lead in a 34-17 defeat in Detroit by permitting touchdowns on three straight possessions, while the Cowboys (8-4) gave up 256 yards rushing in a 33-10 setback to the Eagles in Dallas.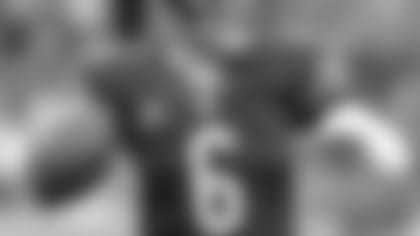 Quarterback Jay Cutler and the Bears will host the Dallas Cowboys Thursday night at Soldier Field.
After calling only seven running plays and 51 passes against the Lions' No. 1-run ranked run defense, the Bears have vowed to be much more balanced on offense.
"We have to attempt to run the ball more," said coach Marc Trestman. "It's something we certainly want to do each and every week. We didn't get it done last week. We admit to that, and we have to move forward and we've got to get some more balance in our football."
Running back Kyle Long no doubt will be more involved in the offense than he was against the Lions when he had just five rushes for six yards and caught six passes for 52 yards. Forte currently ranks eighth in the NFL in rushing with 828 yards and third with 1,478 yards from scrimmage.
Quarterback Jay Cutler is sixth in the NFL with 298 completions, eighth with 24 touchdown passes, 10th with 3,105 yards and 17th with a 91.2 passer rating. In two career games against the Cowboys, he has completed 39 of 53 passes for 552 yards with 5 TDs, no interceptions and a 138.2 rating.
The Bears trail the all-time series 13-11 but have won three straight since 2010. The Bears won the last meeting 45-28 last Dec. 9 as they scored on all eight of their possessions before taking a knee on the final play of the game. Josh McCown passed for four TDs and ran for a fifth score. Forte rushed for 102 yards on 20 carries and Brandon Marshall caught six passes for 100 yards.
The Bears will face a Cowboys defense that's led by middle linebacker Rolando McClain and safety Barry Church. Former Bears defensive tackle Henry Melton leads Dallas with six sacks.
Defensively, the Bears will be challenged by an explosive offense that's led by quarterback Tony Romo, running back DeMarco Murray, receiver Dez Bryant, tight end Jason Witten and an offensive line that boasts three first-round picks in Tyron Smith, Travis Frederick and Zack Martin.
"They've done a really nice job in terms of having balance," said defensive coordinator Mel Tucker. "They're going to call 30 runs and they're going to call 30 passes. They're extremely committed to running the football and they do an excellent job from a scheme standpoint."
Romo has completed 68.2 percent of his passes for 2,718 yards with 22 TDs, eight interceptions and a 106.2 passer rating that ranks third in the NFL behind only the Packers' Aaron Rodgers (118.6) and the Broncos' Peyton Manning (107.8).
Murray leads the NFL in rushing with 1,427 yards, nearly 400 more than any other running back. He's averaging 5.0 yards per carry and has scored eight touchdowns this season.
"He's tough," Tucker said. "He's got really good speed. He's got good vision. He's really patient. He's a smart player. He understands the blocking schemes. He understands when to cut, how to press the hole, things like that. He's just very talented."
With Lance Briggs being placed on injured reserve with a groin injury, second-year pro Jonathan Bostic is expected to assume the weakside linebacker position on a full-time basis.
Kicker Robbie Gould, whose 243 field goals are tied for the most in Bears history with Kevin Butler, is expected to miss the game with a quad injury. The Bears on Wednesday signed Jay Feely, a 13-year NFL veteran who last kicked for the Cardinals last season.