The Bears will look to win two straight and improve to 4-5 Sunday when they visit the Rams in St. Louis. Here are four storylines to monitor heading into the game:
1) Will Jay Cutler stay hot against one of the NFL's top defenses?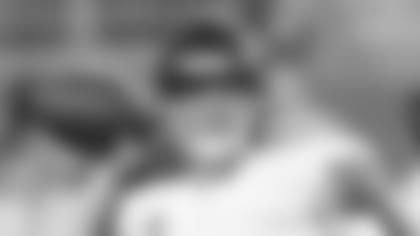 Jay Cutler and the Bears will look to improve to 4-5 Sunday when they visit the St. Louis Rams.
Since missing one game with a hamstring injury, Cutler has performed exceptionally well in five starts, completing 129 of 202 passes for 1,442 yards with eight touchdowns, three interceptions and a 92.1 passer rating.
Cutler has not thrown multiple interceptions in a game this season and has passed for 353 and 345 yards in his last two road starts in Detroit and San Diego. His passer ratings over the last five games have been 89.4, 88.4, 88.8, 94.4 and 100.5.
On Sunday, Cutler will face a Rams defense that is tied for second in the NFL with 27 sacks and ranks fifth in total yards. The unit is led by a stout front four that features tackle Aaron Donald and end Robert Quinn.
"You've got to throw a lot of different stuff at them," Cutler said. "You've got to get rid of it fast. You've got to [use your] screen game. You've got to block it up at times and push the ball down the field because they're going to show you a lot of different looks. They've got really good players. They're going to make some plays. We've got to prepare for that and we've got to be ready to combat that."
2) Will the Bears be able to overcome key injuries?
Three of the Bears' top playmakers in receiver Alshon Jeffery (groin), running back Kyle Long (knee) and outside linebacker Pernell McPhee (knee) are all listed as questionable for Sunday's game with injuries.
The Bears employ a next-man up philosophy, but it certainly isn't easy to replace difference-makers, especially one like Jeffery. Since returning to action after missing four games with a hamstring injury, Jeffery has tied a Bears receiving record with three straight 100-yard outings.
Jeffery has caught 10 passes in each of his last two games—for 116 yards and one touchdown against the Vikings and a season-high 151 yards versus the Chargers.
3) Will the Bears defense be able to contain Rams rookie running back Todd Gurley?
The Bears will be challenged by Gurley, who ranks fourth in the NFL in rushing with 664 yards despite missing the first two games of the season while recovering from a torn ACL he suffered last November at Georgia.
"I've heard some people compare him to Adrian Peterson when he first came into the league, so just to even consider that tells you where this guy is from a talent standpoint," said Bears defensive coordinator Vic Fangio.
Gurley ran for more yards (556) in his first four starts than any other player since the NFL/AFL merger in 1970.
"He's a phenomenal player," said Bears coach John Fox. "Kind of knew that coming out [into the draft]. He had done it at a high level in college. To me, he's transformed that to the pro game. He's explosive. He's big. He's got good vision."
The Bears defense enters Week 10 ranked 24th against the run. The unit has allowed two opposing runners to top 100 yards this season—Cardinals rookie Thomas Rawls (16 carries for 104 yards) and the Vikings' Peterson (20-103).
4) Will the Bears coverage units be able to stop return specialist Tavon Austin?
It surely hasn't been a banner year for the Bears on special teams; they allowed three touchdown returns of 105 and 108 yards on kickoffs and 65 yards on a punt in the first seven games of the season.
The task doesn't get any easier Sunday against Austin, who's averaging 10.1 yards on 16 punt returns including a 75-yard touchdown.
"This guy's extremely dangerous with the ball," said Bears special-teams coordinator Jeff Rodgers. "He's a fun guy to watch when you're not trying to tackle him. He has elite top end speed, elite quickness and elite production."