CINCINNATI – Saturday night's preseason game against the Bengals won't count in the standings, but the contest at Paul Brown Stadium is significant for several Bears players.
Five of those individuals include nose tackle Eddie Goldman, safety Adrian Amos, tackle Charles Leno Jr.. Jr., receiver Joshua Bellamy and tight end Zach Miller.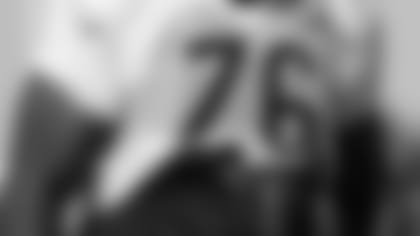 Eddie Goldman during training camp.
With veteran defensive tackle Jeremiah Ratliff suspended by the NFL for the first three regular-season games, it's important that Goldman continues to develop. The rookie already has made huge strides since being selected in the second round of the draft out of Florida State.
"It's night and day with him from camp to now," said veteran defensive end Jarvis Jenkins. "Being a rookie, you get chewed out, and you can tell a guy like that, he absorbs that and takes coaching. They're always preaching to him, 'Make sure you strain your body; be physical because that's what you're here for.'
"You can see it when he's playing now. He's straining. He's recognizing what people are teaching him and the corrections he's making. It's showing on the field and he's going to be a really good player."
The 6-4, 322-pound Goldman possesses ideal size and strength.
"The thing about Eddie is he's a powerful guy," Jenkins said. "We always tell him, 'Look at [perennial Pro Bowl nose tackle] Haloti Ngata, look at guys with your body type and how they progress as far as how they play their position.'
"The one thing that's going to help him is power. He has a lot of power and when he comes with that club move, it's one of the best right now as far as rookies I've seen. The sky is the limit for him."
Another rookie draft pick, Amos is expected to make his second straight start Saturday night at safety and could solidify his spot with the No. 1 defense with an impressive performance.
Amos played cornerback his first two seasons at Penn State, split time between cornerback and safety as a junior and lined up at safety last year as a senior. The 6-foot, 218-pounder excels in coverage and also brings a physical element to the secondary.
On the other side of the ball, second-year pro Charles Leno Jr. is pushing Jordan Mills for the starting right tackle position. While Bears coaches have two years of tape on Mills, Leno is more of a mystery. He appeared in just six games last season as a rookie, mostly as a sixth eligible lineman.
Even if he isn't able to unseat Mills, Leno must prove that he can serve as the Bears' No. 3 swing tackle. He's practiced at both spots this summer and played both positions at Boise State, starting 13 games at right tackle in 2011 and 26 contests at left tackle in 2012-13.
With the Bears' top four receivers dealing with injuries, Bellamy will have a golden opportunity Saturday night to play with the No. 1 offense and prove he deserves a roster spot. The 6-foot, 208-pounder showed his playmaking ability last Saturday night against the Colts, catching a short pass from Jimmy Clausen and turning it up the sideline for a 12-yard touchdown.
With rookie first-round pick Kevin White out indefinitely following leg surgery, the competition for spots behind Alshon Jeffery, Eddie Royal and Marquess Wilson remains wide open.
The battle for reserve spots at tight end behind Pro Bowler Martellus Bennett also is unresolved. Miller has been improving in practice as he returns from a season-ending foot injury he sustained last summer in the Bears' second preseason game.
Miller must flash the form he showed in last year's preseason opener when he caught six passes for 68 yards and two TDs in a win over the Eagles and avoid the injury bug that has derailed his career.
Miller played in 33 games with five starts in three seasons with the Jaguars from 2009-11, catching 45 passes for 470 yards and four touchdowns. But the 6-5, 240-pounder has not played in an NFL regular-season game since 2011 due to multiple injuries.