INDIANAPOLIS - The Bears are expected to play their starters well into the second quarter in Saturday night's preseason game against the Indianapolis Colts at Lucas Oil Stadium.
The defense, under first-year coordinator Vic Fangio, will look to improve after allowing a game-opening 15-play, 85-yard touchdown drive in the Aug. 13 preseason opener against the Miami Dolphins.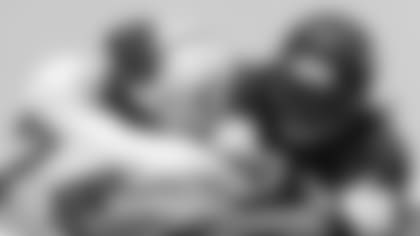 LB Willie Young during one of the joint practices with the Colts.
"I think we're adjusting great," said cornerback Tim Jennings. "The coaching staff is willing to work with us putting guys in the right position and I think that helps a lot, so we feel comfortable being where we're supposed to be and we're able to make plays."
Rookie fifth-round pick Adrian Amos leapfrogged second-year pro Brock Vereen on the depth chart at one of the safety positions earlier this week and is expected to start against the Colts opposite Antrel Rolle.
"I think he's definitely learning quickly," Rolle said. "He's a smart guy. He catches onto the defense very well. He has a high level skill set, so that's only going to help him out. It's really going to be about communication and how we gel together at safety and so far we've been doing pretty good."
Amos is an intriguing prospect who played cornerback his first two seasons at Penn State, split time between cornerback and safety as a junior and lined up at safety last year as a senior. He excels in coverage and also brings a physical element to the secondary.
"We put a little more stock in games and we're excited to see [Amos] play and I'm sure he's excited to play," said coach John Fox.
Also in the secondary, cornerback Sherrick McManis will look to build on an impressive performance against the Dolphins. In that game, he forced and recovered a fumble and broke up a third-down pass.
"He's very competitive, he's willing to learn and he's a young player that's taking a step," Fox said.
A special-teams standout the past three seasons with the Bears, McManis hopes to also emerge as a regular contributor on defense.
"He's a baller," Rolle said. "He's a playmaker, and that's all you need to see right now from a guy in the secondary."
With two of the Bears' top receivers not expected to play Saturday night—Alshon Jeffery is recovering from a calf injury and rookie Kevin White is out indefinitely with a shin injury—third-year pro Marquess Wilson figures to get expanded playing time.
"I think he's shown good improvement," Fox said. "He's getting better. We're leaning on him some. He's a guy we saw a little bit on tape a year ago and felt pretty good about. He's getting plenty of opportunities and I'm excited to see where he goes with it."
Wilson caught 17 passes for 140 yards and one touchdown last season after missing the first nine games with a broken collarbone he suffered in training camp.
"We just need him to take that next step and get some confidence," said quarterback Jay Cutler. "Getting hurt last year set him back a little bit. Once he gets out there, catches some balls and gets going some he's going to be a threat."
Wilson's versatility is a huge plus for the Bears offense.
"He can do anything," Cutler said. "You can put him inside. You can put him outside. He can break in. He can break out. Man-to-man he's good off the press. He's got a huge array of routes that he can do."