DETROIT – The Bears will look to win their third straight game in a 12-day span and improve to 6-6 Thursday when they face the Detroit Lions on Thanksgiving at Ford Field.
After allowing 106 points in back-to-back losses to the Patriots and Packers, the Bears have permitted only one touchdown in each of their last two games, 21-13 wins over the Vikings and Buccaneers.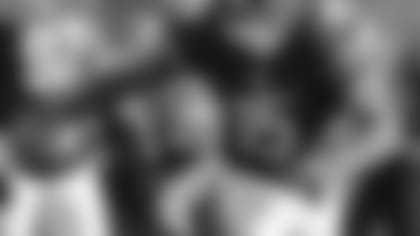 Receiver Brandon Marshall and the Bears will face the Lions Thursday at Ford Field in Detroit.
The Lions (7-4) have not scored a touchdown in losing their last two contests 14-6 to the Cardinals in Arizona and 34-9 to the Patriots in New England. Thursday's game is the first of two meetings between the Bears and Lions with the rematch scheduled for Dec. 21 at Soldier Field.
The Bears lead the all-time series 96-67-5 and lost both games to the Lions last season by scores of 40-32 in Detroit and 21-19 in Chicago. The Bears are 6-6 at Ford Field since it opened in 2002.
In 11 games against the Lions, Jay Cutler has completed 206 of 335 passes for 2,389 yards with 15 touchdowns, five interceptions and a 91.7 passer rating. Cutler enters Week 13 ranked seventh in the NFL in completions (267), 12th in yards (2,825) and 13th in passer rating (93.0).
Cutler and the Bears will be challenged by a Lions defense that ranks third in the league in total yards and first against the run. It's fueled by a fierce line that's led by tackle Ndamukong Suh and end Ziggy Ansah.
"They do a great job of collapsing the pocket," Cutler said. "They're coming off the edge and they've got the big guys in the middle that are forcing the guards and everybody right into your lap. They make it really difficult."
The Bears offense has struggled this season, especially early in games. In their last six contests, they've been outscored 41-0 in the first quarter. In last Sunday's win over the Buccaneers, the Bears generated only 68 yards on 28 plays in the first half while allowing three sacks, losing one fumble, dropping four passes and committing two penalties.
Defensively, the Bears will play Thursday without veteran linebacker Lance Briggs, who sustained a groin injury last Sunday against Tampa Bay. Rookie cornerback Kyle Fuller is listed as questionable with a knee injury that forced him to exit last weekend's contest.
With Kyle Fuller on injured reserve, the Bears will employ an all-hands-on-deck approach in defending star Lions receiver Calvin Johnson. Johnson has been bothered by an ankle injury since Week 3, missing three games and compiling only 59 and 58 yards with no TDs the past two weeks.
"To try to slow him down is going to be a group effort," said defensive coordinator Mel Tucker. "Everyone has to play well and execution has to be at a high level. We've got to do a great job with the game plan. Guys have to play hard.
"They have an excellent quarterback (Matthew Stafford) and you can't make mistakes against these guys. They're very explosive. We're not going to leave it up to one guy. We're going to rally, play good team defense and play hard and be where we're supposed to be and get it done as a group."
The Bears defense will look to pick up Thursday where it left off against the Buccaneers, when it generated four takeaways and a season-high five sacks. Stephen Paea registered two of the sacks to increase his season total to a career- high six, the third most among NFL defensive tackles.
Defensive tackle Jeremiah Ratliff is doubtful for the game with a knee injury, meaning that rookie Will Sutton is expected to start alongside Paea.