SEATTLE - The Bears will try to avoid their first 0-3 start since 2003 and snap a seven-game skid dating back to last year when they visit the Seahawks Sunday in Seattle.
The Bears will be shorthanded on offense with both quarterback Jay Cutler and receiver Alshon Jeffery ruled out of the game with hamstring injuries.
Backup quarterback Jimmy Clausen will make his second start in as many seasons with the Bears. Last year in a Week 16 loss to the Lions at Soldier Field, he completed 23 of 39 passes for 181 yards with two touchdowns, one interception and a 77.0 passer rating. But Clausen suffered a concussion that forced him to miss the season finale.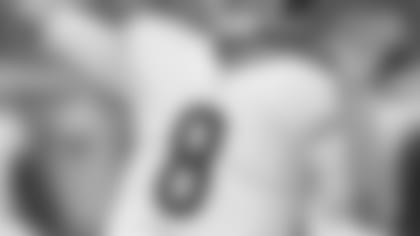 Jimmy Clausen was 14 of 23 for 121 yards last week against the Cardinals.
After Cutler exited last weekend's loss to the Cardinals late in the second quarter, Clausen failed to produce a touchdown on nine possessions, connecting on 14 of 23 passes for 121 yards with one interception and a 56.6 passer rating.
Clausen figures to be better prepared when he steps in under center in Seattle after practicing with the No. 1 offense Wednesday, Thursday and Friday.
"I thought he had a great week," said coach John Fox. "I thought the whole football team was very focused this week as they well should be going to play a team [like the Seahawks] in a venue like Seattle. So much like everybody, [Clausen had] a good week of preparation."
Jeffery, meanwhile, will miss his second straight game. He sat out the entire preseason with a calf injury, returned to catch five passes for a team-leading 78 yards in the season opener against the Packers, and then suffered a hamstring injury in practice.
Defensively, the Bears will be challenged by quarterback Russell Wilson, who has posted a 22-2 record at home since being selected by Seattle in the third round of the 2012 draft. In those games, he's passed for 4,686 yards with 37 touchdowns, 13 interceptions and a 100.9 passer rating.
"He's a magician," said Bears defensive coordinator Vic Fangio, who faced Wilson twice a year the past three seasons when Fangio served in the same role with the 49ers. "He's extremely fast, extremely quick, extremely instinctive. And very confident with the ball, sees the field, has a feel for what's around him. He doesn't get hit very hard even when he carries the ball as much as he does."
In addition to passing for 3,475 yards last season, Wilson led all NFL quarterbacks in rushing with 849 yards. Sixteen of the league's 32 teams didn't have a running back gain that many yards on the ground.
The Seahawks may be without star running back Marshawn Lynch, who is listed as questionable with a calf injury. But safety Kam Chancellor—considered the heart and soul of the Seattle defense—is expected to make his 2015 debut after ending a contract holdout on Wednesday.
Like the Bears, the two-time defending NFC champion Seahawks are also 0-2 after losing back-to-back road contests to the Rams and Packers.
The Bears trail the all-time series with Seattle 10-6 and have lost four of the last six. They lost the last meeting 23-17 in overtime on Dec. 2, 2012 at Soldier Field as Wilson engineered touchdown drives of 97 yards late in the fourth quarter and 80 yards in overtime.
Wilson passed for 293 yards and two TDs and rushed for 71 yards on nine carries. The Bears forced overtime with Robbie Gould's 46-yard field goal on the final play of regulation. It was the last NFL game for middle linebacker Brian Urlacher, who exited with a hamstring injury.
The Bears enter Week 3 ranked 8th in the NFL in offense (5th rushing and 19th passing) and 7th in defense (tied for 22nd against the run and 4th versus the pass). The Seahawks rank 19th in offense (11th rushing and 20th passing) and 17th in defense (15th versus the run and 21st versus the pass).