The Bears will look to reach the .500 mark for the first time this season Sunday when they battle the San Francisco 49ers at Soldier Field.
The Bears (5-6) have won three of their last four games and are 5-3 since opening the season with consecutive losses to the Packers, Cardinals and Seahawks. With a victory Sunday, the Bears would reach the .500 mark after an 0-3 start in a season for the first time since 1965.
The Bears have allowed less than 20 points in four straight games for the first time since 2012 and have permitted an average of 17 points in their last five contests, fourth best in the NFL. In a 17-13 win over the Packers Thanksgiving night, they held quarterback Aaron Rodgers to a 62.4 passer rating, his lowest in 61 career home starts.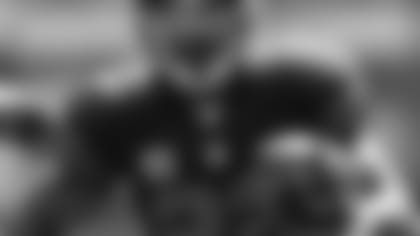 Running back Kyle Long has 592 rushing yards so far this season.
Asked about the resurgence of the defense, Bears quarterback Jay Cutler said: "It's been huge. Some games we've played well, some games we haven't played as well as we wanted to. But consistently our defense has given us a chance at the end of games to either win or for us to have a last drive and try to win the game."
The 49ers (3-8) have lost two straight, four of their last five and eight of 10 since opening the season with a 20-3 win over the Vikings. San Francisco is 0-5 on the road this season.
Niners quarterback Blaine Gabbert has performed well since replacing the injured Colin Kaepernick, registering a passer rating of 90 or higher in back-to-back games for the first time in his five-year NFL career.
After allowing 170 and 177 yards rushing in their last two games, the Bears expect the 49ers to try to establish the run Sunday. With running backs Carlos Hyde and Reggie Bush both injured, San Francisco is expected to start Shaun Draughn, a former Bear who has compiled 259 yards from scrimmage in three games this season.
"We haven't been real solid the last couple of weeks, so it'll be a huge challenge," said coach John Fox. "They're a good run football team, [with a] big, experienced offensive line as well as a running back that has stepped in and done a heck of a job in Draughn."
Cutler has compiled a 100.8 passer rating in the last four games, and has passed for 12 touchdowns and four interceptions in his last eight starts. The Bears quarterback has played three career contests against the 49ers, completing 73 of 118 passes for 713 yards with five touchdowns, six interceptions and a 71.8 passer rating.
With running back Matt Forte healthy, he is expected to again share the workload with rookie Jeremy Langford, a fourth-round pick from Michigan State.
"They're both explosive backs," Cutler said. "Both are very good in [pass] protection and both are very good pass catchers. There's a huge advantage there for us being able to get them matched up on 'backers and safeties and hopefully be able to get them the ball."
The Bears will face a 49ers defense that's led by inside linebacker NaVorro Bowman, who tops San Francisco with 99 tackles after missing all of last season with a knee injury.
"Having Bowman back, he has really made a lot of strides," said offensive coordinator Adam Gase. "That was a horrific injury he went through, and to see him running around out there making plays as much as he is, it's amazing to see how he's come back and played at a high level again. You appreciate his play. When you watch him on tape you see him making a big difference on their defense."