For the first time in just over eight months, the Bears will finally play a game that counts in the standings Sunday when they open the 2014 season by hosting the Buffalo Bills.
Looking to improve from an 8-8 finish in 2013, the Bears return all 11 starters from last year's record-breaking offense that set franchise records with 6,109 total yards, 4,450 passing yards, 32 passing touchdowns, a 96.9 passer rating and 344 first downs.
While hoping to build on last season's success in Year 2 in the offense, quarterback Jay Cutler knows that nothing is guaranteed in 2014.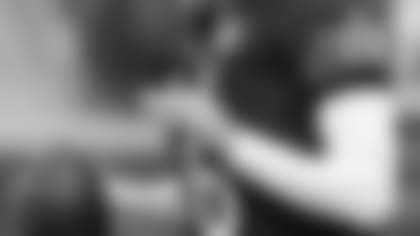 Jay Cutler and the Bears will look to win their fifth straight season opener Sunday when they host the Buffalo Bills.
"You've got to hit the reset button," Cutler said. "We've got to make sure that we stay focused and treat every day like it's the first day. But there's definitely a calmness, I think, in our huddle, knowing we've been through a lot of situations. We've worked together. Everyone has a good feel. We all enjoy playing together. It's a little bit of both.
The Bears will be challenged by a Bills defense fueled by a strong line. Last season Buffalo's four starters combined to produce 41 sacks: ends Mario Williams (13) and Jerry Hughes (10) and tackles Kyle Williams (10.5) and Marcel Dareus (7.5).
"They're going to have a really good defensive line that's going to cause pressures," Cutler said. "Minimal [blitzes] but the [blitzes] that they bring are difficult to deal with, and you have to prepare for them. So they're going to show you different looks. They're not going to be stagnant. It's not going to be an easy game."
Defensively, the Bears will face a productive rushing attack that ranked second in the NFL last season and features running backs C.J. Spiller and Fred Jackson.
"They're excellent backs," said defensive coordinator Mel Tucker. "They run hard. Everyone is at the point of attack when they have the ball, and they do a great job with their offensive line. They're physical. They know how to run the football. So it's a huge test. They were one of the top rushing offenses in the league a year ago."
"They run the ball well," added linebacker Lance Briggs. "They want to establish the run. They do it out of a lot of different formations. They do a lot of things out of those formations, a lot of gimmicks and things to try to get you out of your gaps and get the running back to the second level fast. Spiller and Jackson are very good tailbacks. Spiller is very fast. He likes to get outside and use his speed, and Jackson runs really well between the tackles. They are both smart. They utilize them both out of the backfield too. They can catch the ball."
The Bills also feature rookie receiver Sammy Watkins, the fourth overall pick in the draft.
"He's got great speed, great one-step quickness," Tucker said. "Body quickness, initial quickness, balance, body control. All those things you need to have the run after the catch and he has them."
"He's a first-round draft pick, so he has all the measurable—tall, fast, athletic, can run after the catch, so we're definitely going to have our hands full with him," said safety Ryan Mundy. "They have a good group of skill guys, but really what makes their offense go is their running backs Fred Jackson and Spiller. Those guys are very elusive. They run hard, and they get the job done in the running game. Our first and foremost goal is to stop the run."
After struggling mightily on defense last season, the Bears are eager to rebound in 2014.
"It starts with character," Briggs said. "When I say character I mean the men out there, when we need to stop the run or get off the field on third down, when we need to keep guys out of the end zone, it's the man that's next to you. What type of character do we have? Do we trust each other that each of us is going to do our job? We have the right group out there. I believe that."