The Bears will look to improve to 3-4 and record their first NFC North win of the season Sunday when they battle the Minnesota Vikings at Soldier Field.
Playing at home for the first time in four weeks, the Bears return from their bye in quest of their third victory in four games following an 0-3 start.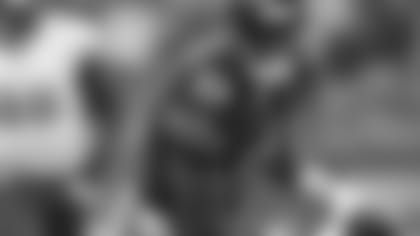 Wide receiver Alshon Jeffery has 29 receptions for 486 yards and four touchdowns this season.
Coach John Fox has won seven straight games immediately following a bye dating back to 2008 when he was coach of the Carolina Panthers.
The Vikings (4-2) have won four of five since opening the season with a 20-3 loss in San Francisco and are in second place in the NFC North.
Last Sunday Minnesota swept the season series with the Lions with a 28-19 win in Detroit. The Vikings rallied from a 17-6 deficit behind quarterback Teddy Bridgewater, who passed for a season-high 316 yards and two touchdowns.
The Bears trail the all-time series with the Vikings 55-51-2 but have won seven straight and 13 of their last 14 home games against Minnesota. The only exception was a 34-31 loss in 2007 when Adrian Peterson rushed for 224 yards and three TDs.
In 12 career games against the Bears, Peterson has rushed for 1,396 yards and 14 TDs on 278 carries. He compiled 211 yards in his last meeting with the Bears on Dec. 1, 2013.
"We all know how fast he is and strong and explosive and a threat to hit a home run all the time," said defensive coordinator Vic Fangio. "It's going to take 11 guys playing good run defense to get this guy stopped."
Peterson enters Sunday's game at Soldier Field ranked fourth in the NFL in rushing with 530 yards on 120 carries. Since being limited to 31 yards in a season-opening loss to the 49ers, he has averaged 99.8 yards per outing in helping the Vikings win four of five.
Minnesota's offense also features rookie receiver Stefon Diggs. The fifth-round draft pick from Maryland has 19 receptions for 324 yards and one touchdown in the last three games after being inactive the first three contests.
"He's really come on," Fox said. "I've been very impressed with him. He runs good routes. He comes out of breaks and has good transition. He's got good deep speed. He's a guy that's gotten better every week."
In 11 career games against the Vikings, Jay Cutler has passed for 2,606 yards with 23 touchdowns, 13 interceptions and a 91.5 passer rating. In 13 contests, Kyle Long has rushed for 1,004 yards and one TD on 239 carries and caught 53 passes for 347 yards and one TD. In five games, Alshon Jeffery has 29 receptions for 486 yards and four TDs.
They'll face an aggressive young Vikings defense that recorded a season-high seven sacks in last Sunday's win over the Lions.
"They do a great job as far as disguising who is coming," said offensive coordinator Adam Gase. "That's why [Vikings] coach [Mike] Zimmer has had the success he has had over his career. He makes it tough on offenses, he always has.
"You saw last week what they did to Detroit, so it's been that way for a long time and you just have to do a good job of giving the quarterback options, making sure that we do a good job in our protections, knowing who to block and working our system."