The Bears will officially kick off the Ryan Pace/John Fox era Sunday by hosting the rival Green Bay Packers at Soldier Field.
It's the beginning of a difficult three-game stretch for the Bears, who open the season against three opponents in the Packers, Cardinals and Seahawks that went a combined 35-13 last year.
Although the Bears and Packers will meet for the 191st time, Sunday's game marks only the third time the longtime rivals have opened the season in Chicago. The Bears are 17-12-2 versus Green Bay in season openers, including 1-1 at Soldier Field: a 6-3 win in 1979 and a 16-9 loss in 1981.
The Bears lead the all-time series 93-91-6 but have lost nine of 10 since 2010, including the 2010 NFC Championship Game. Their only win during that span was a 27-20 victory at Lambeau Field on Nov. 4, 2013 when Packers quarterback Aaron Rodgers exited with a broken collarbone on Green Bay's first possession. The Packers have won five straight at Soldier Field.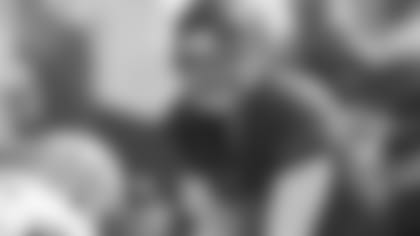 Jay Cutler has completed 201 of 352 passes for 2,456 yards with 14 touchdowns in his career against Green Bay.
Rodgers, who has led the Packers to four straight NFC North titles, won his second NFL MVP award last season and his 106.0 passer rating is tops in league history.
"He's a tremendous competitor," Fox said. "I played against him his first year when he replaced Brett [Favre]. You could see immediately he has all the physical skills it takes—the mobility, the quickness of release and the arm strength. He's surrounded by some pretty good players. I can understand how he's had a lot of success and they have."
Rodgers has dominated the Bears, compiling a 12-3 career record as a starter while completing 310 of 455 passes for 3,692 yards with 31 touchdowns, 10 interceptions and a 106.2 passer rating.
Bears defensive coordinator Vic Fangio was 4-0 against Rodgers and the Packers while serving in the same position with the San Francisco 49ers from 2011-14. But Green Bay still averaged 25 points in those four defeats.
"There is no one way to stop a great quarterback like [Rodgers]," Fangio said. "Some people would say pressure him, but he can hurt you there. Drop a lot of guys, he can hurt you there. That's why he's a great quarterback. There's not one way to play him. You've just got to mix it up."
Rodgers' counterpart, Jay Cutler, has completed 201 of 352 passes for 2,456 yards with 14 touchdowns, 21 interceptions and a 67.1 passer rating in 11 career games against Green Bay.
Last season Cutler passed for a career-high 28 touchdowns, but he tied for the NFL lead with 18 interceptions and topped the league with 24 turnovers. Operating first-year coordinator Adam Gase's offense this summer, Cutler threw just one interception in 12 practices in Bourbonnais and none in three preseason games.
Cutler figures to benefit from a more balanced offense than the pass-oriented attack he operated the past two seasons under coach Marc Trestman.
"If you get into the habit of dropping back every single down and passing the football, the defensive line is pinning their ears back," Pace said. "It makes it difficult on your offensive linemen. We all know when you're running the ball, play-action, sprint-outs, boots, all those things come into effect.
"I also think when you're playing a team with a powerful offense on the other end, running the football you can control the clock and that's important. So we've got to win the turnover margin, we've got to run the football and we've got to play tough, physical Bears defense and get back to that."
The Bears likely will lean on running back Kyle Long, who has rushed for 876 yards and four TDs on 224 carries and caught 55 passes for 529 yards and 1 TD in 13 career games against Green Bay.