The Bears will look to snap a two-game losing streak and improve to 3-5 when they visit the San Diego Chargers Monday night at Qualcomm Stadium.
The contest is the Bears' only Monday Night Football appearance of the season. They are 28-36 all-time on MNF, including 13-24 on the road, but are 12-4 since 2006.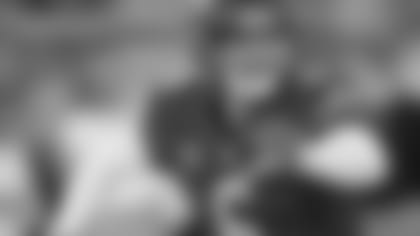 Jay Cutler has thrown for 1,442 yards with eight touchdowns this season.
The Bears are 2-2 following an 0-3 start with their last four games having been decided by a total of nine points. After rallying in the final minute to beat the Raiders 22-20 and Chiefs 18-17, they lost on the final play to the Lions 37-34 in overtime and the Vikings 23-20.
The Chargers (2-6) have lost four straight after a 2-2 start, with their only wins this season coming at home over the Lions 33-28 in Week 1 and the Browns 30-27 in Week 4.
The Bears will be shorthanded on offense, with running back Kyle Long and receiver Eddie Royal both sidelined due to knee injuries. With Forte out, rookie Jeremy Langford is expected to make his first NFL start. The fourth-round pick from Michigan State has rushed for 80 yards and two touchdowns on 27 carries this season.
In six career games against the Chargers, Jay Cutler has passed for 1,527 yards with nine touchdowns, seven interceptions and an 81.9 passer rating. This season Cutler has thrown for 1,442 yards with eight TDs, four interceptions and an 87.5 rating.
Defensively, the Bears will face the NFL's No. 1-ranked passing attack that's directed by quarterback Philip Rivers, who leads the league in passing yards with 2,753.
The Chargers suffered a big blow when leading receiver Keenan Allen was lost for the season with a lacerated kidney last Sunday against the Baltimore Ravens. Allen has 67 receptions for 725 yards and four touchdowns.
But Rivers has several other options. In fact, the Chargers have five other players with at least 21 catches, a 10.8 yards-per-catch average and two touchdowns this season. The group consists of tight ends Antonio Gates and Ladarius Green, receivers Stevie Johnson and Malcom Floyd, and running back Danny Woodhead.
The Bears lead the all-time series 6-5 and have won five of the last six. They won the last meeting 31-20 on Nov. 20, 2011 at Soldier Field, scoring touchdowns on four straight possessions to extend their winning streak to five games.
Cutler passed for two TDs and ran for a third before breaking his thumb while trying to make a tackle on an interception. It was an injury that caused the Bears quarterback to miss the final six games of the season.