The Bears continued a strong history of promoting cancer awareness this week by teaming up with Cancer Treatment Centers of America (CTCA) and the Urology Care Foundation "Know Your Stats" program to raise awareness about prostate cancer for the second year in a row.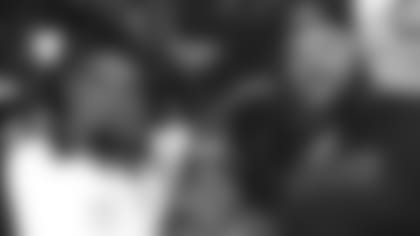 Center Roberto Garza and Guard Matt Slauson
Center Roberto Garza and guard Matt Slauson spent time at CTCA in Zion, IL Tuesday, September 23 to support patients currently battling cancer. Slauson, whose father is battling stage IV Prostate cancer, said, "We got to learn from these patients today. They have the ability to keep fighting such adversities all while keeping smiles on their faces. They are incredible." Garza, whose grandmother passed away from pancreatic cancer, was also excited to give back to these fighters.
The visit was a welcome escape for those being treated at the hospital. "I can't believe they would take their own personal time outside of games to see those who aren't doing their best," commented cancer patient Willie Wilson. "It's a testament to who they are as genuine people."
The Bears want fans to be aware of prostate cancer, which affects 233,000 men every year; a number that could fill Soldier Field almost four times over. Men often don't seek preventive services, so CTCA and the Bears hope this partnership encourages them to think about their prostate cancer risk.
This Sunday's game will include a number of prostate cancer awareness messages, including asking fans at the stadium to text "PROSTATE" to 82257, prompting CTCA to donate $1 to Know Your Stats.
"1 in 7 men will be diagnosed with prostate cancer in their lifetime," said Scott Jones, President and CEO of Cancer Treatment Centers of America at Midwestern Regional Medical Center. "The more awareness we can raise, the more lives we can save."