The Bears held a "Save Da Planet" sustainability event with Chicago Gateway Green and IGS Energy Tuesday at Southside Occupational Academy High School in Chicago.
Bears outside linebacker Sam Acho, former Bears fullback Jason McKie, Staley Da Bear and 30 IGS Energy employees joined to plant trees and flowers in school gardens, propagate boxwood, spread mulch, serve as runners for materials, landscape/clean and assemble a compost bin and rain barrels.
In addition, the Bears and IGS teamed up to provide a $10,000 donation to Southside Occupational Academy High School for greening and sustainability programming.
"The Chicago Bears have been a valuable partner to not only Gateway Green, but to all of the neighborhoods it's enriched over the past 18 years," said Grant DePorter, Chairman of Gateway Green and President and Managing Partner of the Harry Caray's Restaurant Group. "We are looking forward to planting trees and helping Southside Occupational Academy celebrate the greatness of green space."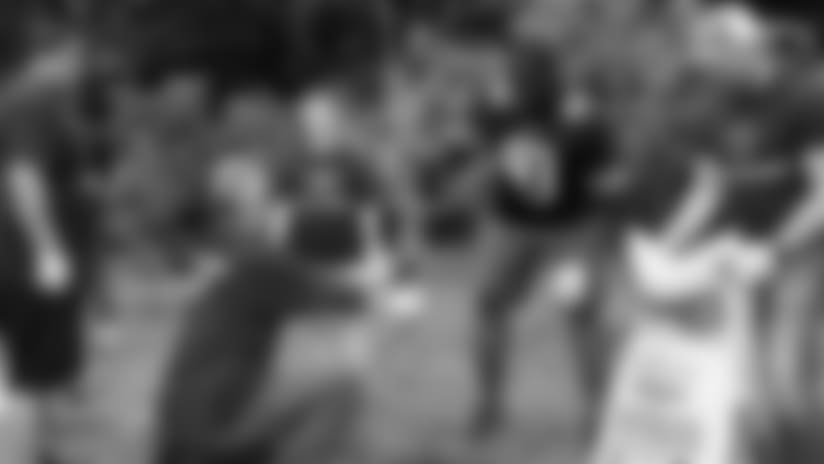 The Save Da Planet event aligns with the Gateway Green Day of Impact Program, which is a large-scale tree planting initiative that transforms land into tree-filled green spaces by engaging volunteers and communities. Since its inception in 2008, Chicago Gateway Green has planted 130,000 perennials and more than 80,000 trees and shrubs.
"We are very excited to partner with the Chicago Bears and Gateway Green on the Save Da Planet event," said Kerri Ward, Director of Corporate Brand and Communications for IGS Energy. "Together, our employees and the Chicago Bears will be making an impact on the environment and promoting sustainably, while helping beautify the school grounds for the kids."  
Chicago Gateway Green improves Chicago's communities through three key programs: The Expressway Partnership, transforming city roadways into landscaped parkways; the International Sculpture Program, beautifying gateways through the installation of public, international art on expressways; and the Day of Impact Program, a large-scale tree planting initiative that transforms vacant land into tree filled green spaces.
The organization has broad support across the region's business and civic community and serves as a model for effective public private partnerships. Working towards the sustainability goals of the Chicago Climate Action Plan, Chicago Gateway Green partners with socially responsible corporate citizens and local communities to hold large scale volunteer plantings throughout the city.
With nearly 30 years of experience in the energy industry, the IGS family of companies provides the following to over one million customers across the country: natural gas, electricity and home protection products; power generation solutions off the grid; clean, domestic alternative fueling options; and solar solutions. 
The company focuses on empowering consumers to make choices that best fit their energy needs. Their community investment program, IGS Impact, provides employees with opportunities to get involved with causes that are meaningful to both the company and to them personally.