The Bears and Bears Care, the team's charitable arm, announced Wednesday that they have invested $611,000 to build a state-of-the-art training center and teaching kitchen in the new Healthy Lifestyle Hub currently under development by the Greater Auburn Gresham Development Corporation (GAGDC). 
This critical project will increase access to health- and wealth-building opportunities for residents of the South Side neighborhood. With this investment in the Healthy Lifestyle Hub, the Bears and Bears Care have provided more than $1.92 million to COVID-19 relief and recovery efforts.
GAGDC is converting a long-vacant building at 839 W. 79th St. into a multi-purpose space that includes a Federally Qualified Health Center, pharmacy, bank, restaurants and more. COVID-19's disproportionate impact on Black Chicagoans was felt deeply in the Auburn Gresham neighborhood, which saw Illinois' first COVID-related death and has long been without access to quality health care facilities and other essential resources. 
"Carlos Nelson and the Greater Auburn Gresham Development Corporation team have done such an incredible job of gathering input from the community to understand their needs and vision for the area's future, so investing in the Healthy Lifestyle Hub was an easy decision for us," said Bears President & CEO Ted Phillips. "We are excited to play a small role in this project and help bring a renewed sense of hope to the Auburn Gresham neighborhood."
The Healthy Lifestyle Hub's training center will serve as a multipurpose instruction space and conference room, which will be equipped with free wi-fi, broadband technology services for videoconferencing and vibrant and dynamic interior design elements to ensure versatility in usage and comfort. Classes will focus on health and wellness, fitness/movement, financial literacy and many other topics created and designed in line with Auburn Gresham's "Lifelong Learner" motto and GAGDC's focus on advancing residents' health and wealth. 
The teaching kitchen will offer classes for people of all ages and include a mix of industrial-grade equipment and tools found in a typical home kitchen. Video technology will allow live streaming of classes led by GAGDC, the University of Illinois' Office of Community Engagement and Neighborhood Health Partnerships programming and others. GAGDC continues to fundraise for a green roof suitable for programs and events. To donate and learn more, visit gagdc.org/donate.html.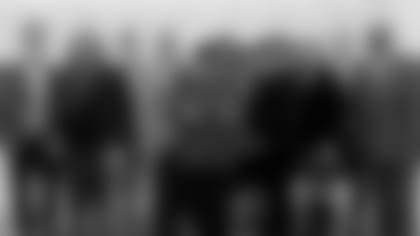 GAGDC was the recipient of the Pritzker Traubert Foundation's inaugural $10 million Chicago Prize and received funding from the City of Chicago's INVEST South/West program. In addition to the Healthy Lifestyle Hub, GAGDC is partnering with Urban Grower's Collective and Green Era to develop a renewable energy and urban farming campus in Auburn Gresham.
"This past year brought challenges unlike anything we've ever seen, but it also surprised us with some unbelievable blessings," said GAGDC CEO Carlos Nelson. "With funding from the Pritzker Traubert Foundation's Chicago Prize and the City of Chicago's INVEST South/West initiative, our vision for the Healthy Lifestyle Hub was able to come to life. And now, as a lifelong Bears fan, to be able to say once again 'MY Chicago Bears' are investing too, it's simply a dream come true. We are so grateful for the support we've received from everyone involved and look forward to the Healthy Lifestyle Hub opening next spring."
Nelson was one of four community advocates representing an NFL team and announcing their first-round pick on stage with Commissioner Roger Goodell at the 2021 NFL Draft in Cleveland. The Bears nominated Nelson for the opportunity, due to his impactful work with GAGDC.
Bears Care and the Bears have been invested financially and programmatically in Auburn Gresham since 2016, supporting GAGDC, TARGET Area Development Corporation, Leo Catholic High School, Urban Growers Collective and the 006th District of the Chicago Police Department.
The Bears and Bears Care have also provided COVID-19 relief and recovery donations and matching grants to Advocate Charitable Foundation, Chicago Community COVID-19 Response Fund, Chicago Police Memorial Foundation, Chicago Public Schools, GENYouth, Greater Auburn Gresham Development Corporation, Greater Chicago Food Depository, I Grow Chicago, Illinois COVID-19 Response Fund, Meals on Wheels Chicago, Northern Illinois Food Bank, Social Change, The Salvation Army Metropolitan Division and University of Chicago Partnering for Community Impact.
INVEST South/West is a community improvement initiative under Mayor Lori E. Lightfoot to marshal the resources of multiple City departments, community organizations, and corporate and philanthropic partners toward 10 communities on Chicago's South and West Sides. Through this groundbreaking collaboration, the City will align more than $750 million in public funding over the next three years, while seeking to maximize those public investments in order to attract significant additional private and philanthropic capital, respond to changing commercial trends, and enrich local culture. With a focus on 12 key commercial corridors in the 10 communities – the "front doors" to the neighborhoods – INVEST South/West collectively supports infrastructure development, improved programming for residents and businesses, and policies that impact each of the community areas surrounding these corridors to create lasting impact. To learn more, please visit chicago.gov/city/en/sites/investsw/home.
The Pritzker Traubert Foundation has invested in Chicago neighborhoods for more than a decade, focusing on economic opportunity for all Chicagoans. As part of its $100 million commitment to Chicago, it launched the Chicago Prize, a $10 million investment in a single catalytic initiative. The inaugural 2020 Chicago Prize was awarded to Always Growing, Auburn Gresham to support the Greater Auburn Gresham Development Corporation's Healthy Lifestyle Hub, along with a nearby urban farm and green energy campus being developed by Urban Growers Collective and Green Era Energy.