Chicago Bears Akiem Hicks, Jerrell Freeman, Martin Wallace and Lamarr Houston traveled to Regina, Saskatchewan, Canada to participate in NFL Canada's Play 60 event held on June 17-18 at the University of Regina.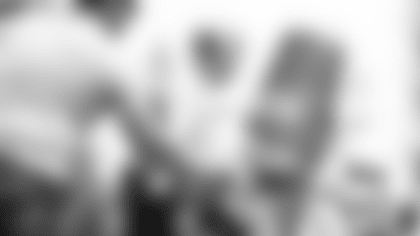 The weekend consisted of two events in which Bears players participated. On Friday, roughly 75 female players from the Regina Youth Flag Football League, in partnership with Girls in the Game Canada, listened to a presentation by Dr. Jen Welter, the first female coach in NFL history. Welter also held a panel discussion followed by a Q&A with the Bears.
On Saturday, Bears players participated in the NFL Play 60 interactive zone by greeting fans and signing autographs. The players then traded helmets for whistles as they coached 300 flag players through a 90-minute youth football clinic. The clinic was modeled around the NFL Play 60 messaging of a recommended daily 60 minutes of physical activity. The players provided drill instruction and examples of how daily physical activity played a role in helping them achieve their dreams of making it to the NFL.
The trip to Canada was especially exciting for first-year Bears Hicks and Freeman as both have Canadian ties. Hicks attended The University of Regina where he played defensive tackle while Freeman played linebacker for the Saskatchewan Roughriders.
The Regina Youth Flag Football League currently has 2,500 players participating (both boys and girls ages 6-17). The league has grown by more than 1,000 players over the past 3 years. The visit was designed to reward the local youth who are embracing flag football as a part of their daily recommended 60 minutes of physical activity. The program also hopes to inspire others to join the PLAY 60 movement and provide local football organizations with the resources and expertise needed to continue growing the sport, particularly among females.