The Bears have re-signed 13 of their own players since late December and inked four from other teams in the first 24 hours of the free agency. But they're not done upgrading their roster.
"We've got some holes to fill," general manager Phil Emery said Wednesday. "We've got a lot of work to do on our roster. I want our fans to know that that work is not going to stop. We just consider these signings as a step, a step in the right direction. We feel very good about the players we signed, but we've got a lot of work to do."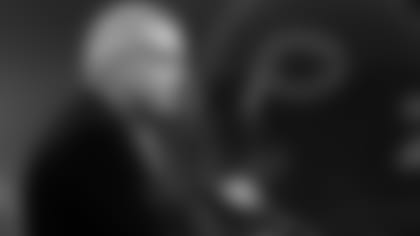 Bears general manager Phil Emery addresses the media Wednesday at Halas Hall.
The Bears have re-signed quarterback Jay Cutler, center Roberto Garza, kicker Robbie Gould, cornerback Tim Jennings, defensive tackle Jeremiah Ratliff and guard Matt Slauson, among others.
They followed those moves by opening free agency with a bang, agreeing to terms with defensive end Lamarr Houston (Raiders), safety Ryan Mundy (Giants) and linebacker Jordan Senn (Panthers) Tuesday and safety M.D. Jennings (Packers) Wednesday.
Moving forward, the work that Emery vowed to continue could involve the backup quarterback position after Josh McCown agreed to a two-year contract Wednesday with the Buccaneers. After excelling in place of the injured Cutler last season, McCown received a lucrative deal from Tampa, where he likely will start for former Bears coach Lovie Smith.
"We all want to congratulate Josh," Emery said. "He has been provided with a great opportunity to be a starter down there in Tampa. We're very happy for him and very proud of him. We look forward to competing against him on the field, but we're very happy for him that he has this opportunity."
Emery praised backup Jordan Palmer, whom the Bears re-signed last Sunday, but conceded that the team would consider drafting a quarterback or signing a veteran to back up Cutler.
Palmer performed well in the preseason last summer, particularly in a game against the Browns. But he has appeared in only four NFL regular-season contests, all as a reserve.
"We like Jordan Palmer," Emery said. "That's why we brought him back. He's a guy that fit in
incredibly quick. He was a good influence in the room. He has got good intelligence."
In terms of acquiring another player at the position, Emery said: "We're going to look at the draft for an opportunity to add to our quarterback roster. And at some point we'll probably bring in a bunch of veterans after this wave of free agency—this first and second wave—and take a look at who's still looking for an opportunity. We'll bring them in and we'll try them out and we may sign another one."
Emery also revealed that the Bears will continue to scour the free-agent market for safeties, even after signing both Mundy and Jennings.
"We're going to keep looking at the UFA class," Emery said. "We're going to keep grinding on the roster. There will be a number of workouts run through this building between now and before the start of the season. We're going to keep looking at this roster, and if we find a skill or trait in a player at a position that is better than what we currently have, we're going to sign him and we'll release another player.
"We're going to keep working the roster to improve the level of competition so we get better as a team. We're definitely going to look at the safety position, continue to look at it extensively in the UFA market and the draft and post-draft."