The Chicago Bears were proud to host several events and welcome a variety of different community groups during Training Camp at Olivet Nazarene University in Bourbonnais, IL this summer.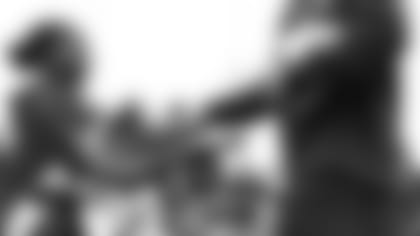 Marc Trestman
To kick-off the season and the school year, Bears Care hosted its annual "Back to School Fair" on Saturday, July 26. Over 1,100 children enjoyed an afternoon of fun, food and games, but most importantly were able to access medical, dental, audiology and social services to ready them for the upcoming school year. This important community event connects low-income families in Kankakee County to a wide range of greatly needed services, and helps foster connections with local organizations that can provide support throughout the year.
On Wednesday, August 6, hundreds of youth football players and cheerleaders turned out for Youth Football Day at Bears Training Camp. Kids who wore their youth football jerseys or cheer uniforms could stop by the Youth Football tent to register for cool Bears prizes, including autographed merchandise, Bears footballs, prize packs, and tickets to a Bears game.
On Tuesday, August 12, Head Coach Marc Trestman and his staff continued a Training Camp tradition when they donated the bicycles they use to get around campus to deserving area children following the team's last practice at ONU. The Bears and head equipment manager Tony Medlin once again worked with local agencies, including the Bourbonnais Police Department and Starfish Family Homes, to identify 23 children to receive the new bicycles. The coaches spent a few minutes visiting with the kids, explaining how to shift gears, adjust the seat, and asking what they planned to do with their new wheels. In addition, each child received a helmet, bike lock and water bottle. Photos from the annual Coaches' Bike Giveaway can be viewed here.
Additionally, the Bears were excited to host over 400 children from various charitable organizations throughout Bears Training Camp. Groups from CARA Road Scholars, Chicago Park District, Special Olympics Illinois, Special Children's Charities, Starlight Children's Foundation Midwest, UNO (United Neighborhoods Organization) and USO of Illinois were guests of the Bears on different days throughout camp. All of the kids received lunch and Bears goodies, watched practice from a private set of bleachers, and had the chance to meet some of their favorite players and receive autographs following practice.