Wondering about a player, a past game or another issue involving the Bears? Senior writer Larry Mayer answers a variety of email questions from fans on ChicagoBears.com.
Is Brandon Marshall going to bring Alshon Jeffery down to Florida to work out together during the offseason like they did last year, and are any of their Bears teammates expected to join them?
Yes, Brandon Marshall is planning on bringing Alshon Jeffery down to Fort Lauderdale to train with him for the second straight offseason. Here's what Marshall said about the situation recently: "It's only his second year in the league and what I always tell him is that what got him here is his humility and his hard work and we're going to continue that. No matter how much money you make, no matter how much they're talking about you, you're going to continue to work.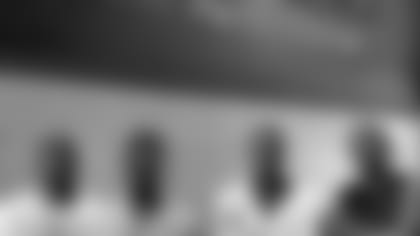 Chad Johnson, Hanley Ramirez, Brandon Marshall and Alshon Jeffery pose together in Florida.
Maybe [after] another year or two down in south Florida with me and then maybe he can go on and do his own thing. But he still needs at least another year with me, and then I don't care where he works out because he'll have it all figured out." The two receivers, who both will play in the Pro Bowl, apparently have already started to work out together; Marshall recently posted a photo online of the two Bears teammates with former NFL receiver Chad Johnson and Los Angeles Dodgers third baseman Hanley Ramirez. There are indications as well that Bears quarterback Jay Cutler, tight end Martellus Bennett, running back Matt Forte and receiver Marquess Wilson all could join Marshall and Jeffery down in Florida to work out together at some point this offseason.
Did Lovie Smith hire any of his former Bears assistants down in Tampa?
Ross A.
Madison, Wisconsin
Yes, new Buccaneers coach Lovie Smith has hired six assistants who worked with him in Chicago: Andrew Hayes-Stoker (receivers), Tim Spencer (running backs), Hardy Nickerson (linebackers), Gill Byrd (cornerbacks), his son Mikal Smith (safeties) and Kevin O'Dea (special teams).
The Bears have three Pro Bowlers after going 8-8. What is the record for most Bears players in the Pro Bowl in a season in which they did not have a winning record?
Since the NFL/AFL merger in 1970, the most Pro Bowlers the Bears have had in a non-winning season was in 2011 when they had six after finishing 8-8. The six were linebackers Lance Briggs and Brian Urlacher, running back Matt Forte, defensive end Julius Peppers, cornerback Charles Tillman and special teams standout Corey Graham.