The Chicago Bears announced today that the new downtown office space at 123 N. Wacker Dr. has officially been completed. The space, which was designed with an emphasis on employee collaboration, satisfaction and future growth, includes 35 staff members, who were relocated from Soldier Field to the 11,000-square-foot leased office space.
The space includes eight interior private offices, which allows for sunlight to reach all workstations in the open-concept floor plan. In addition to two private phone rooms, the office includes a wellness room for nursing mothers or other staff needs. There are two lounge spaces for staff, in addition to the staff café.
The main conference room, named the Papa Bear Conference Room, overlooks the Chicago River and is 418-square feet. The office includes one additional conference room named Halas Hall South, which has artwork highlighting the organization's history, tradition and many on-field achievements, and one meeting room for internal use named The Huddle Room.
The design and artwork throughout the office was created to incorporate the Bears brand and feature the tradition and history of the organization with a modern twist. Guests entering the space will be greeted by a Bears C-shaped reception desk and four-panel digital wall. The lobby also includes wall art featuring the lyrics to the team's fight song, "Bear Down Chicago Bears." The main hallway is lined with a subtle navy wall print highlighting the 32 Formation Play #54 in George Halas' playbook. Parts of that wall also include "turf" overlaid by stenciled metal lettering featuring various team slogans. Covering the exposed brick café wall is an original mural created by local graffiti artist Stuk One, which depicts the city skyline on top of a bear's back, all in front of the Chicago flag.
Throughout the regular season, the exterior lights above the entrance at 123 N. Wacker Dr. and around the 28th floor's outdoor deck will light up blue and orange on the night before and of each Bears game.
J.C. Anderson served as the team's general contractor and JLL has served as the organization's property broker. HOK was the architect for the downtown office space, along with the previously announced Halas Hall expansion project.
A select group of staff will continue working from the stadium. The team's existing office space at Soldier Field will be upgraded and repurposed as conference rooms and internal gameday use.
Situated on the southeast corner of Randolph and Wacker, the 30-story office building is located within blocks of Union Station, Ogilvie Transportation Center and various CTA stations, along with convenient proximity to highway and Lake Shore Drive access. The building includes a state-of-the-art tenant fitness center and personal daily laundry service and is also undergoing renovations to the tenant lounge, conferencing center, private tenant roof deck, bicycle storage and concierge services.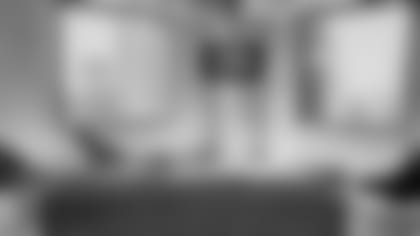 HOK's Interior Designer Mary Campbell: "The Bears' new downtown offices will be a showcase space for the organization. Throughout the design process, the team was committed to creating a warm, welcoming environment for their staff and a destination for guests and partners in the heart of Chicago. These offices celebrate the Bears brand - their legacy, history and trajectory - through design."
J.C. Anderson's COO Steve Boulukos: "J.C. Anderson is excited about our continued partnership with the Chicago Bears! Both organizations share a rich heritage, uncompromised character and dedication to quality. As the leading interiors contractor in Chicago, we believe it's what's inside that matters and JCA is dedicated to building workspaces where our clients can thrive. The brand new Chicago loop office was a fun collaboration for our team. The space is impressive and we hope the Bears enjoy it as much as we enjoyed building it."
JLL's Managing Director David Miller: "Walking into the Bears' new office demonstrates how much they embody team spirit both on and off the field. It's open, collaborative and buzzing with activity, empowering employees to perform at their best for the fans. Additionally, locating close to their clients allows the team to strengthen and develop new long-lasting partnerships."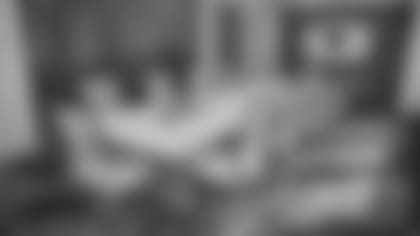 About HOK 
HOK's Sports + Recreation + Entertainment practice is a leader in the design of training facilities, ballparks, stadiums, arenas, and recreation centers. The group plans and designs training facilities and sports complexes that are the centerpieces of successful, vibrant teams and communities. HOK is a global design, architecture, engineering and planning firm. Through a network of 23 offices worldwide, HOK provides design excellence and innovation to create places that enrich people's lives and help clients succeed. DesignIntelligence consistently ranks HOK as a leader in sustainable, high-performance design and technology innovation.
About J.C. Anderson
J.C. Anderson, Inc. established in 1879 with offices in Chicago and Elmhurst, Illinois, is one of the area's oldest and largest interior general contractors. The firm's interior construction projects range from multi-million dollar contracts to building maintenance projects for building owners; developers; private and public corporations; property management firms; educational institutions; industrial and healthcare facilities. J.C. Anderson, Inc. maintains an average work force of 100 employees including a professional staff of degreed construction specialists and project managers, and a field team of union carpenters, tapers and laborers.
About JLL
JLL (NYSE: JLL) is a leading professional services firm that specializes in real estate and investment management. Our vision is to reimagine the world of real estate, creating rewarding opportunities and amazing spaces where people can achieve their ambitions. In doing so, we will build a better tomorrow for our clients, our people and our communities. JLL is a Fortune 500 company with nearly 300 corporate offices, operations in over 80 countries and a global workforce of 86,000 as of June 30, 2018. JLL is the brand name, and a registered trademark, of Jones Lang LaSalle Incorporated. For further information, visit jll.com.