Bears receiver Chase Claypool traveled to London to attend the NFL UK Flag Football National Championships on June 28 and present the winning teams with their trophies.
The NFL celebrated its largest ever national finals, which included the first ever secondary school finals. The annual primary schools event saw 12 teams qualify for the championships while eight secondary school teams qualified.
Representing the Bears at the national championships were primary schools Angram Bank and Ysgol Gwynedd and secondary school Rawlett. Angram Bank made it to the semifinals while Ysgol Gwynedd advanced to the quarterfinals, both teams losing to the eventual winners (Lings). Rawlett went 1-2 in their group stage games, finishing fifth overall.
Lings Primary School was crowned champion after defeating Windlesham House 20-0 in the final game while St Ivo took home the first ever UK secondary school championship by beating Warden Park 22-6.
The championship tournament - hosted at London's Tottenham Hotspur Stadium - was a culmination of a nine-week local and regional finals series, which included 192 schools, 1,920 children aged 10-13 and 384 coaches across the UK.
As a Global Flag Football Ambassador, Claypool spent the day at the Spurs Stadium encouraging and supporting the kids, signing autographs and taking pictures and handing out the awards.
Claypool's passion for flag football stems from his personal experiences with the sport growing up in British Columbia, Canada. While opportunities to learn American football were limited when Claypool was a kid, he joined a flag team, and the experience quickly became a bonding moment from him and his family and friends.
"I was playing flag football and my brothers ended up coaching some of the games and drawing up some plays," Claypool said. "That summer I had so much fun with my friends, I was like, 'I want to do this as much as I can.' There was never one specific moment, it was just the entire time I was playing flag football I had so much fun."
Claypool was joined at the championship games by Commanders defensive end Efe Obada, Ravens linebacker David Ojabo and Team GB NFL Flag player Phoebe Schecter.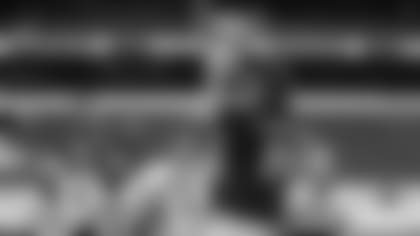 Alongside the NFL, the Bears have been at the forefront of expanding American football and flag football into international markets. In March the Bears partnered with the Jets to launch the first-ever UK NFL Girls Flag League. Claypool represented the Bears at the launch event in Ealing, London March 8 and discussed his international involvement with the sport on a panel for players of the new league.
"I started playing football when I was eight years old and then I started playing flag football when I was nine years old," Claypool said March 8. "So, I tried to waste no time jumping into that sport. And I think why flag football is so much fun is so many different type of people can play the sport. Maybe there's some people who can't play tackle football, but everyone can play flag football and that's what is so important."
Bears manager of youth football and community programs Gus Silva, who led the organization's second annual Mini Monsters trip to the UK, was pleased to see the energy and excitement Claypool brought to all the events he attended in London. 
"Having Chase represent the Bears in the UK Mini Monsters Tour and NFL Flag Championship demonstrates both his and the Bears commitment to growing the game of American football through accessibility, inclusion, and grassroots activation," Silva said. "It shows that Chase has the same commitment to community engagement that the Chicago Bears do and that our international market is getting the same attention and service that our home market is."