Last Week in the Community…
Mini Monsters
Cody Parkey and Roy Robertson-Harris assisted in running kids through the Mini Monsters clinic at Glen Flora Elementary School in Waukegan. The clinic is a free, 90-minute clinic offered on weekdays from May to October for all kids ages 8-13 that stressed the importance of a healthy lifestyle through fun, non-contact football drills.  
Spa Day For Survivors
The Chicago Bears and reporter Lauren Screeden treated women identified through Gilda's Club Chicago, that are battling breast cancer, to a spa day and dinner. In line with Crucial Catch, Bears Care provided Gilda's Club with a $40,000 grant that helps underserved women who are battling breast cancer. 
Chris Draft Tackling Cancer Camp
Bears Alumni Chris Draft held a Tackling Cancer camp at Halas Hall on Tuesday, October 23rd for patients and caregivers. In 2010, Chris lost his wife to a battle with lung cancer and has become an Advocate for patients and their families, encouraging them that cancer has not won. People of all ages diagnosed with all types of cancers participated in an hour-long football camp with Bears Alumni Johnny Knox and James "Big Cat" Williams, as well as Monster Squad and Staley da Bear.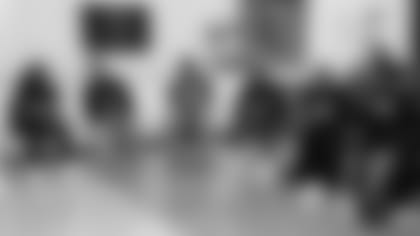 Bears School Outreach
Through a partnership with Youth Guidance, Chicago Bears players Tarik Cohen and Ryan Nall visited Julian High School and Amundsen High School to speak with students who are part of the Becoming a Man (B.A.M.) program. The B.A.M. program focuses on six core values, including Integrity, Accountability, Self-Determination, Positive Anger Expression, Visionary Goal Setting, and Respect for Womanhood. 
Magellan's Champion of the Game
The Chicago Bears and Magellan Corporation continue to brighten the spirits of deserving children through wish-granting experiences. Ryan Hertaus was invited to Halas Hall to watch a Bears practice and visit with his favorite players before the Bears vs. Jets game. The Bears and Magellan provided four complimentary tickets to the game, along with pregame sideline passes, and recognized him in-game as the Magellan Champion of the Game.  
High School All-Star
The Chicago Bears Week 9 High School All-Star Jake Bellizzi from Maine West High School posted a 32-0 win at Deerfield to register their first outright Central Suburban League championship.  Bellizzi rushed for over 1,400 yards this season. 
Coach of the Week
The Chicago Bears Week 9 Coach of the Week winner was Brian Badke of Brother Rice High School. Badke helped lead the Brother Rice Crusaders to a 31-0 victory over Montini Catholic High School to finish the regular season undefeated for the first time in team history.