Last Week in the Community…
30th Annual Chicago Bears Coat Drive
Akiem Hicks and Cody Whitehair kicked off the 30th annual Chicago Bears Coat Drive brought to you by Jewel-Osco. New and gently used coats can be donated at 187 participating Jewel-Osco locations throughout Chicagoland through February 1, 2019. All coats will benefit the Salvation Army.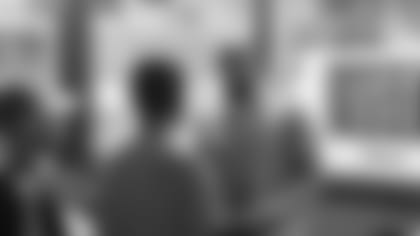 Salute to Service
Leading up to the Salute to Service game and in honor of Veterans Day, the Chicago Bears and Bears Care held various events in support of our armed forces:
USO Teen/Tween Escape Room
Bears alums Rashied Davis accompanied youth from the USO's Teen/Tween program at an escape room in Gurnee Mills. The USO Teen/Tween program serves pre-teen and teenaged children of military service men and women. Bears Care recently awarded USO of Illinois $20,000 for support of its military youth initiatives.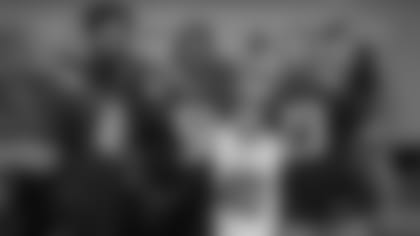 Hope Manor I Visit
Kyle Fuller, Joel Iyiegbuniwe and Roquan Smith visited with veterans at Hope Manor I in Chicago. They served dinner provided by Buona Beef and help stock shelves with essentials for the veterans. Volunteers of America of Illinois opened Hope Manor I, which provides housing for veterans in need of intensive services and assistance in transition. The goal is to help veterans improve their lives over the long-term by promoting self-sufficiency, building new skills, creating strong support networks and integrating veterans more positively into community life.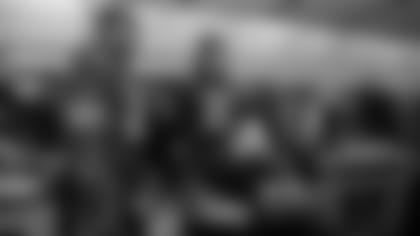 Pros vs. Joes Fortnite Tournament 
In partnership with Pro vs. GI Joe, Tarik Cohen, James Daniels and Bryce Callahan teamed up with veterans from the Chicagoland area in a Fortenite tournament at the Woodfield Mall Microsoft store. Pro vs. GI Joe is a 501c3 nonprofit organization that connects professional athletes to play live video games with active military and veterans, home or away. Throughout the NFL, players from other clubs also participated in the tournament with their local military members. The Bears team pulled together the highest overall score and a $5,000 donation was made to Wounded Warrior Project on behalf of the Bears from Pro vs. GI Joes. See the event here.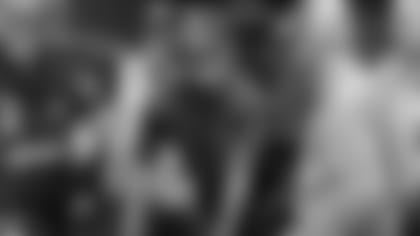 Vietnam War Veteran Commemoration Breakfast 
The Bears hosted the Vietnam War Veteran Commemoration in the PNC Center at Halas Hall for a breakfast to honor veterans. Alumni Emery Moorehead, John Janata and Johnny Knox were in attendance to visit with veterans and take part in an exclusive pinning ceremony, which commemorates their service and acknowledges their sacrifice. The VWC exists to thank and honor veterans of the Vietnam War, including personnel who were held as prisoners of war (POW) or listed as missing in action (MIA), for their service and sacrifice on behalf of the United States and to thank and honor the families of these veterans.
Road Home Program
Bears Care hosted a luncheon, along with volunteers from the Bears family, at the Road Home Program for veterans participating in its Intensive Outpatient Program (IOP.) The current three-week cohort is serving victims of Military Sexual Trauma (MST) and is funded in partnership with the Wounded Warrior Project through its Warrior Care Network. Road Home Program is one of only four centers nationally to offer the IOP, which is a full-spectrum, three-week treatment program connecting veterans to individualized care for trauma-based disorders, including traumatic brain injury, PTSD and MST. Bears Care has awarded $100,000 annually to the Road Home Program since it opened its doors in 2014, focusing its support on services provided to the children and families living with a veteran suffering from the invisible wounds of war.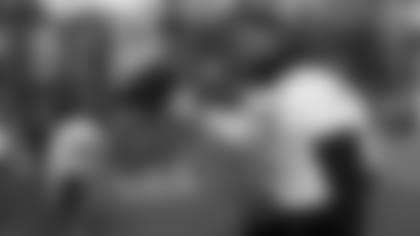 Korean War Veterans Honored at Practice 
The Bears invited Tom and Anthony Bezouska, who are twins who served in the Korean War, to practice at Halas Hall. The Bezouskas grew up in Berwyn, IL, and were drafted together in late 1951 as Paratroopers. They served side-by-side for most of their military career and were both honorably discharged in 1953. Both Corporals received the Purple Heart, Combat Infantry Badge and Korean Service Ribbon with 2 Bronze Service Stars, among many others distinctions throughout their military service.
Bears School Outreach
Through a partnership with Youth Guidance, Chicago Bears players Roy Robertson-Harris, Kevin White and Sam Acho visited Morgan Park High School, Burnham High School and Southside Occupational High School to speak with students who are part of the Becoming a Man (B.A.M.) program. The B.A.M. program focuses on six core values, including Integrity, Accountability, Self-Determination, Positive Anger Expression, Visionary Goal Setting, and Respect for Womanhood.