Bears All Access
Almost 40 members of the military and their families joined the Bears last night for team's Bears All Access radio show hosted by former Bear Tom Thayer and Jeff Joniak with special guest Zach Miller.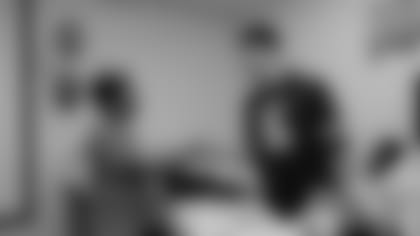 Turkey Giveaway
Kicker Cody Parkey and punter Patrick O'Donnell participated in a Thanksgiving turkey giveaway at YWCA Lake County, which is one of five donation recipients as part of the players' social justice initiative. Jewel-Osco helped with a donation of turkeys for 75 families. The Bears recently announced five recipients for $813,850 that was donated primarily by players, with matching grants from the Bears, Bears Care and NFL Foundation. By the Hand Club for Kids, Kicks 4 the City, SAGA, YWCA Lake County and My Block, My Hood, My City will each receive separate donations out of the total allotment. Together, the players collectively donated $291,600 and coaches and front office executives. The Bears will match the total donation of $311,150, along with additional matching grants from Bears Care and the NFL Foundation. 
Giving Tuesday
We invite you to consider supporting Bears Care with a donation on Giving Tuesday, November 27. Every dollar donated – on Tuesday and every day - will go directly to supporting programs that make a measurable difference in lives of the Chicagoland community, those that are less fortunate, those that battle cancer or those that need a helping hand to reach their full potential. To learn more about where Bears Care funds are at work in the community, or to make a contribution, please visit www.chicagobears.com/BearsCare, or text "GIVING BEARSCARE" to 484848. You can also join Bears punter Pat O'Donnell and kicker Cody Parkey at the Kendra Scott store at Westfield Old Orchard (4999 Old Orchard Center) in Skokie for a Kendra Gives Back party from 6-8pm on November 27. 20% of all fine and fashion jewelry sales that evening will benefit Bears Care.