Bears quarterback Jay Cutler discussed the team's ongoing search for a new head coach Wednesday during the final installment of his weekly radio show for the 2012 season.
Speaking to co-hosts Tom Waddle and Marc Silverman on ESPN-AM 1000 in Chicago, Cutler admitted that he had mixed feelings when Lovie Smith was relieved of his duties last Monday.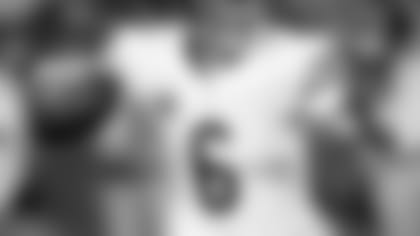 Quarterback Jay Cutler passed for 3,033 yards with 19 touchdowns and 14 interceptions in 2012.
"At first you're torn," he said. "I didn't want to second-guess any of the decision-makers of what direction they wanted to go. We were close talent-wise and had a good squad, 10-6. It's hard to justify firing the coach when there are teams that had four or five wins and still have their coach.
"But the longer we [go] in this process, the more excitement builds; the anticipation. I'm genuinely excited. I'm excited about the future, of the direction of where this team's going."
Cutler has faith that general manager Phil Emery will hire the right coach. Emery told the media last week that he would conduct the first round of interviews and make the ultimate decision after 2-3 finalists meet with Bears chairman George H. McCaskey and team president and CEO Ted Phillips.
"I've got all the confidence in the world in Phil and George and all those guys down there of figuring this out and getting the best possible candidate," Cutler said.
Although the lack of success on offense throughout Smith's tenure ultimately cost him his job, Cutler said it doesn't matter to him whether the new coach's background is on offense or defense.
"I don't think it's important," Cutler said. "It's more about the coordinators and the support staff and who they bring in as assistant coaches. You can easily have a defensive coach and have a strong play-caller for an offensive coordinator and some good assistant coaches to coach the rest of the guys and be successful."
After being hired in 2004, Smith built a dominant ball-hawking defense that led the NFL in takeaways both during his nine seasons with 310 and in 2012 with 44. The Bears also traditionally boasted one of the league's best special teams units led by coordinator Dave Toub.
But Smith's downfall was a Bears offense that consistently struggled under four different coordinators—Terry Shea, Ron Turner, Mike Martz and Mike Tice. In terms of total yards, the unit ranked 32nd, 29th, 15th, 27th, 26th, 23rd, 30th, 24th and 28th in the NFL.
Brandon Marshall had a career year in his first season with the Bears, establishing team records with 118 receptions and 1,508 yards. But no other wide receiver had more than 29 catches.
Asked what improvements are needed on offense, Cutler said: "We've got to be more consistent with our run game. We've got to be able to attack the middle of the field in the passing game without moving 'B Marsh' around.
"We've got to find some guys that can crease the middle and take advantage of some of the coverages we have without having to put 'B' in the slot or at No. 3. It gets difficult when you have to move him around that much."
Cutler said that Marshall was very upset about failing to earn the first playoff berth of his seven-year NFL career.
"He's taking the whole thing hard," Cutler said. "I don't really want to speak for him, but I know he's never made the playoffs and he did everything he possibly could do this season to help us do that.
"I was proud of him. I know it didn't end up how he wanted it to. But we're going to get it right in the coming years, and he'll be there with me and he'll get to where he wants to go. He's been to Pro Bowls. He's set records. He wants to go to the playoffs and the Super Bowl. He wants a ring."
Roster news: The Bears on Wednesday signed tight end Brody Eldridge to a reserve/future contract. The 6-5, 265-pounder was inactive for four games with the Bears this season.
Eldridge started 16 of 27 games played over two seasons with the Colts, recording 14 receptions for 84 yards after being selected by Indianapolis in the fifth round of the 2010 draft.