Quarterback Jay Cutler praised general manager Phil Emery Thursday for how he has bolstered the Bears roster on both sides of the ball during a busy offseason.
"He's doing a great job," Cutler told ChicagoBears.com during an appearance at South Shore International College Prep High School in Chicago. "Phil's always had a plan.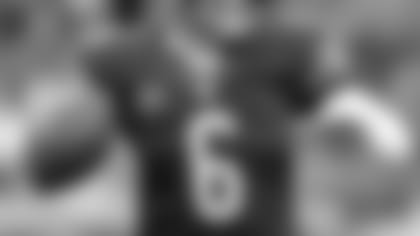 Jay Cutler is the Bears' all-time passing leader in completions, attempts, yards and passer rating.
"You can trust him that he's always going to do the best possible thing for this football team and bring some guys in that are not only good people but are going to help us out on the field. He's given us some flexibility moving forward, and I'm excited to see what he wants to do next."
The Bears have signed more than 30 players since the final week of the 2013 season, including a dozen free agents from other teams. Emery has focused on revamping the defensive line by inking ends Jared Allen, Lamarr Houston, Willie Young and Israel Idonije.
The quartet should help improve a defense that struggled with injuries and performance issues last season when the Bears allowed the most points, total yards and rushing yards in franchise history while also tying for last in the NFL in sacks.
A five-time Pro Bowler, Allen has averaged 14.5 sacks over the past seven seasons, never registering fewer than 11 during that span. Last year with the Vikings, he compiled 11.5 sacks, 52 tackles, 13 tackles-for-loss, six pass deflections and two forced fumbles.
"Jared is great," Cutler said. "When the news came down, I talked to him right away and he couldn't be more excited. I think that Phil and Cliff [Stein] and Ted [Phillips] and the McCaskey family have done a great job of bringing people in that want to be Chicago Bears.
"They want to be here. Some of them have passed up more money elsewhere to come here; Jared Allen, Lamarr Houston and [safety] Ryan Mundy to name a few. I think they're going to fit in nicely with Peanut [Tillman] and Lance [Briggs]. If we get everyone to mold together, we should be good."
The revamped defense will join a potent offense that set franchise records last season for total yards, passing yards, passing touchdowns, completion percentage, passer rating and first downs.
With that combination, Cutler is optimistic that the Bears can contend for a championship in 2014. But the veteran quarterback concedes that every team feels the exact same way in April.
"Everyone's confident this time of the year," Cutler said. "Probably every head coach in the NFL is telling his team the same thing: 'Why not us this year? We can make it happen.'
"We've got a good group of guys. We're just got to stay positive, and keep working each and every day, especially offensively. We had a little bit of success last year. We've just got to make sure that we don't rely on last year's success and just keep working."