Bears quarterback Jay Cutler received a warm welcome Thursday morning as the special guest of honor at South Shore International College Prep High school in Chicago.
The school, which is located on the South Side, held a "Why Jay Cutler is My Hero" essay contest, and the Bears quarterback was on hand to personally congratulate the three winners.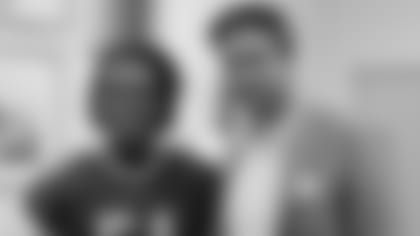 Jay Cutler poses with essay winner Dion Thomas Jr. Thursday at South Shore High School in Chicago.
"It's kind of embarrassing reading some of them," Cutler said. "Just listening to someone talk about you is flattering to say the least. To be able to come down here and meet the kids and meet the winners, it's been a very good experience."
Dion Thomas, Jr., Brianna Henderson and Tamelle Pearson were selected as the winners of the contest from among about 50 entrants. All three wrote about why they admire Cutler.
"Because of his everyday life and his challenge with diabetes, I like how he motivates himself every day on and off the field," said Thomas, a linebacker on South Shore's football team.
"I put in my essay that Jay Cutler inspires me," said Henderson, who plays on the school's girls' basketball team. "He's a very hard worker and I really look up to him."
Cutler began Thursday's visit by participating in a question-and-answer session with honor roll students, health and fitness students, and members of the football team and cheerleading squad.
Cutler spoke about controlling his diet to deal with diabetes, playing not only football but basketball and baseball in high school, and how he cheered for the Bears while growing up in Santa Claus, Ind. He also said that longtime teammate Brandon Marshall is "like a brother" and discussed the challenges of balancing his roles as an NFL player, husband and father.
"It's always an honor to come to a school and hang out with kids, listen to their questions and just try to help them out as much as possible," Cutler said following the assembly.
"These kids do a great job of just staying focused and making sure that they get good grades and stay out of trouble. Just talking to them, they have huge dreams and aspirations and I think more than anything today these kids realize the sky's the limit. They can do anything they want to do."
After the Q-and-A session, Cutler met privately with the three essay winners and their families in principal Janice Wells' office. He posed for photos, signed autographs and answered questions. The school presented Cutler with a community service award and proclaimed April 10, 2014 as "Jay Cutler Day."
"Today was an absolute wonderful day to have Jay Cutler here," Wells said. "Our students were extremely excited. Our staff was excited and it was such an honor to have him here. It was amazing. The way that he interacts with students is a testament to his character. It was really a pleasure to have him in our building."