After two historically bad seasons and a slow start this year, the Bears defense has shown marked improvement over the last several weeks.
Since allowing nine touchdowns in the first two games of the season, the unit has permitted a total of just 11 TDs in seven contests. The defense has yielded only one touchdown in five of those seven games, including the last three in a row.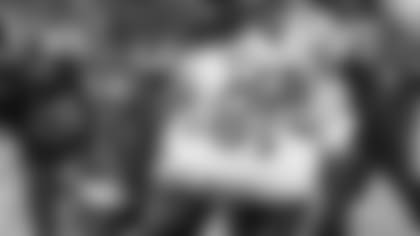 Linebacker Lamarr Houston and safety Antrel Rolle take down Rams running back Todd Gurley.
"We've been growing every week," said outside linebacker Sam Acho. "Even early in the season as a defense we were still putting some good film on tape. What we weren't doing was finishing. We weren't finishing games and I think we've learned a little bit more and matured a little bit and learned how to finish a little bit better as a unit."
The defense has come a long way. The Bears set a franchise record by allowing 478 points in 2013 and then gave up the second-most points in team history with 442 last year.
The recent resurgence has been fueled by first-year defensive coordinator Vic Fangio, one of the NFL's most successful and well-respected assistant coaches. Fangio conveys his message without screaming or yelling at his players and never panics.
"He's steady," Acho said. "Last week we gave up a big touchdown early in the game [in St. Louis] and he didn't waver. He doesn't waver. He trusts his players, he trusts the scheme, he trusts his preparation and we've seen it pay off."
In a 37-13 rout of the Rams, the Bears allowed a touchdown on St. Louis' opening possession and then kept the Rams out of the end zone the rest of the game. The exact same scenario had occurred six days earlier in a 22-19 victory over the Chargers.
Fangio certainly seems to be getting the most out of his players. In the win over the Rams, four-year veteran Shea McClellin forced the first fumble of his career and sixth-year pro Willie Young recorded his first-ever interception. Defensive end Jarvis Jenkins has recorded 3.5 sacks this year after registering only two in 44 games with the Redskins.
The Bears enter Week 11 ranked eighth in the NFL in total yards, an impressive feat given that mostly new players are operating in a new system. Of the 11 starters on Fangio's 3-4 defense, only McClellin was with the team prior to last season.
Three starters arrived in 2014, while seven joined the Bears this year. That group includes five free agents in Acho, Jenkins, outside linebacker Pernell McPhee, cornerback Tracy Porter and safety Antrel Rolle; and two rookies in nose tackle Eddie Goldman and safety Adrian Amos.
The Bears are also receiving contributions from unheralded undrafted rookies in nickel back Bryce Callahan and inside linebacker Jonathan Anderson as well as journeymen defensive linemen Bruce Gaston and Mitch Unrein.
Asked what accounts for the defense's resurgence, coach John Fox said: "Getting guys acclimated to what we're doing. Getting 11 guys to play together. I think we're just getting more comfortable with the communication and the execution."
The defense has helped the Bears win four of six games since the team's 0-3 start.
"We're just playing a little bit better and when you do a lot of little things a little bit better you get bigger, better results," Fangio said.
One key factor has been Porter's return from a hamstring injury. Since missing the first two games of the season, the eight-year veteran has recorded 18 tackles, a team-high 10 pass breakups and one forced fumble in six starts.
"He's done a good job for us," Fangio said. "He's played his position well both from a mental and physical standpoint. He's done a good job of covering and he's brought a nice experience influence to the team and has been playing his position good."