Bears star receiver DJ Moore has made community involvement a personal priority throughout his six years in the NFL, first focusing on Philadelphia, his hometown, and Charlotte, where he spent the first five years of his career.
Eager to start making an impact in the Chicago community, Moore on Tuesday traveled to the city and visited the SOS Children's Villages Illinois, a foster care organization that strives to help underserved youth and families.
"It made my day," Moore said. "I live for this. Being a professional with the experiences that we go through and being able to give back is amazing."
Moore partnered with the Dreambuilders Foundation, which works with professional athletes nationwide to organize and execute community projects, to distribute new athletic shoes to more than 100 children in foster care.
"The shoes were already ready to go so I just had to come give my time," Moore said. "That's the best thing you can give anybody. They did the rest, and it was an amazing turnout."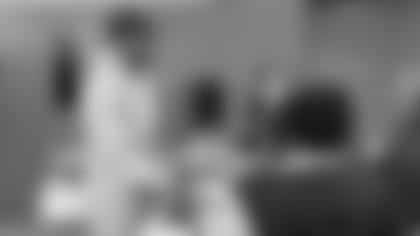 Through his eight months in Chicago, Moore has felt "a lot of love coming through the community." Calling the support, "heartwarming," the veteran receiver has been wanting "to give it back."
Moore brought his 3-year-old daughter, Ari, to help him pass out the shoes and interact with the kids and their families.
Knowing Ari will grow up with a different lifestyle than he did, Moore has placed importance on showing his daughter the value of giving back. He said Ari "had a good time handing out the sneakers to everybody."
"Ari wanted to bring herself," Moore said. "She loves giving back no matter what it is, it could be small, big. She and her mom went and packaged some boxes the other week so that was good."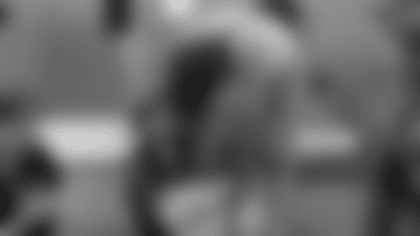 Dreambuilders executive director Ryan Altizer, who previously worked with the receiver during his time in Carolina, was excited to see how quickly Moore wanted to immerse himself in the Chicago community.
"This was something DJ heard about and really wanted to be a part of," Altizer said. "He's been so community-minded and involved in the community going back to his time at Carolina. He really has a heart for these types of things, so when he heard about the opportunity to come do this, he was all over it."
During his time with the Panthers, Moore was named Carolina's 2021 Walter Payton NFL Man of the Year nominee, acknowledging his community service efforts along with his on-field success.
Moore already plans on increasing his community involvement as the holiday season begins to pick up, adding: "I'm probably gonna be back real soon."
Christie Richardson, deputy director of family & community enrichment at SOS Children's Villages Illinois, expressed her gratitude for Moore's involvement in the event.
"We were happy for DJ to come in and help us be a sunshine to our children as well as the families," Richardson said. "The families appreciate being able to be supported in that type of way. So we just thank everyone for coming out, especially the Bears, and being a lifter of the families and the children in this time of giving."
Moore continued that community engagement on Wednesday at Halas Hall as he helped kick off the Bears 35th annual Coat Drive alongside head equipment manager Tony Medlin. Moore expressed his support for the Coat Drive during his media availability.
"To be a part of it with T-Med, it's going to be special," Moore said. "I plan on donating and I hope everybody plans on donating for the kids that probably need it the most and some that may have some but need some more. They grow, get older, grow out of coats and this coat drive is going to benefit a lot of people."