Walter McElroy never got to see his grandson Danny Trevathan play football.
Walter passed away in 1994 due to lung cancer. He spent his adult life working in the steel mills in Ohio to support his family.
Trevathan — now in his seventh season as a linebacker in the NFL — says it was the second to last time he cried. 
The other time was in 2015 when he found out that his grandmother, Walter's wife, had been diagnosed with breast cancer.
"No way this is true," Trevathan remembers thinking upon learning the news. "After he died, I promised myself I wasn't going to cry anymore. That was like the one time I kind of cried again, on my grandma's shoulder."
Trevathan's grandmother, Dorothy McElroy, wishes her late husband could see their grandson now.
She remembers how she knew her grandson was destined for big things even when he was young.
"He was something special with that football," McElroy said. "My husband, I hate that he didn't get a chance to see some of it before he passed."
McElroy has seen Trevathan play in person before, but not since being diagnosed in December of 2015, just two months before he played in Super Bowl 50 with the Broncos.
Instead of watching her grandson win a championship in person, she was forced to watch from afar as she began chemotherapy.
"It hurt because I had wanted to see it so bad," McElroy said. "I watched it on TV. Everything that I couldn't get to, I'd see it on TV."
She didn't like having to watch from a distance, but she found that for a few hours on Sundays, she forgot about the sickness watching her grandson play.
"I would get upset when they would lose," McElroy said through laughs. "I would get mad sometimes."
Through the pain, McElroy battled the disease and eventually reached a point of remission.
This past weekend, nearly three years after her original diagnosis, she had the chance to see Trevathan play in a game for the first time as a member of the Bears.
After learning of McElroy's fight with cancer, the Bears reached out to the family to see if she'd like to surprise Trevathan and watch him play against the Patriots in the team's Crucial Catch game that raises awareness and money for cancer causes.
The only problem, McElroy has a bit of a reputation for not being able to keep a secret very long, so the team worked with the family to set up the weekend. The team flew her and one of her daughters out from Ohio to Chicago on Friday.
When the family finally let her in on the plan, they cut her off from communication, no phones, no tablets. No one trusted her to keep the surprise secret.
"I didn't find out anything until last minute," McElroy said, "They just told me I was going to Chicago."
On Saturday, after the Bears finished practice, coach Matt Nagy gathered the team and made an announcement.
"We have a player on this team that has somebody near and dear to him, means a lot to him, has a grandmother that's been battling cancer the last several years," Nagy said. "And it's my understanding that that grandmother has never seen that grandson play at Soldier Field. We as an organization wanted to do something special for '59,' Danny Trevathan, and bring your grandmother here."
Trevathan stepped forward from the back of the huddle and embraced Nagy, but he still didn't realize that his grandma was there in person. 
In fact, Trevathan said he first thought the announcement was about somebody's else's grandma.
"OK I get to meet somebody's grandma, cool," Trevathan remembers thinking. "Then he called me up and he's like, 'Danny Trevathan, we're going to bring your grandma to a game,' and I said, 'Man I've been trying to get her to a game.' excited you know, thinking she's going to be at the game. And I turned around and he was like 'No, she's behind you.' I turn around, she's riding up on a golf cart. I'm like, 'What the heck? Ain't no way she's here right now.'"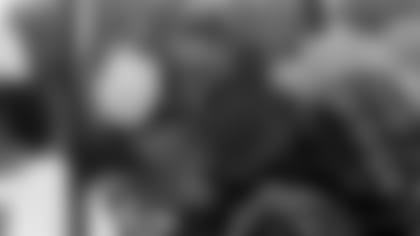 "He said, 'Grandma,' and that took me back when he was a little baby,'" McElroy said.
The two shared a long hug.
"We were just telling each other how much we loved each other," McElroy said.
The next day — sporting a personalized 'OG Dotti' Bears jersey, Trevathan's nickname for his grandma — McElroy got to watch pregame activities from the field and take in the rest of the game from a suite.
She even offered him a bit of pregame advice.
"You go in there and you win," McElroy said she told her grandson. "And you pray before you go. Ask God to bless you."
Trevathan has a slightly different version of her pregame pep talk.
"She told me go out there and knock some heads," he remembers her saying. "Take the ball off them every second you get."
McElroy admits she might've said that, too.
Whatever the advice was, it worked. Trevathan played inspired football, recording a game-high 10 tackles despite the Bears falling to the Patriots, 38-31.
"I was flying around, and I was just playing with so much emotion," Trevathan said. "She finally got to make it to a game. We didn't get the result I wanted. I wanted that win for her, but as long as she got to make it and she's happy, I'm happy."
Watching in person, win or lose, grandma couldn't have asked for a better day.
"It was amazing," McElroy said. "I was trying to ignore the people and keep an eye on him, and I kept waving. I was so happy."
After other players learned of what Trevathan's grandma had been going through, many came up to him and told them about their own families' experiences with cancer.
Trevathan isn't one to be overly emotional — he gets that from his late grandfather according to McElroy — but he did see the team come together in a way that was different this weekend.
"I'm not really into all the mushy mushy stuff," Trevathan said. "I just feel like we grew as a family."
McElroy taught Trevathan and the rest of her family the importance of family at a young age.
"To always be thankful for what the good Lord does for you," McElroy said. "You always love each other and do what you can for each other."
It's a lesson Trevathan has learned again in watching his grandma's battle with cancer.
"Just how strong we really are," Trevathan said. "Each day is a blessing, take every opportunity and make the most out of each day, because everybody's days are limited, and you can't take anything for granted being mad, sad. You got to love, and you got to forgive, and got take life for what it is."