Five Chicago area high school student-athletes were honored for their excellence on the football field, in the classroom and in the community during the National Football Foundation (NFF) Chicago Metro Chapter Awards on Monday, February 20 at Halas Hall in Lake Forest, IL. Jeff Joniak, the voice of the Chicago Bears, once again served as master of ceremonies for the event.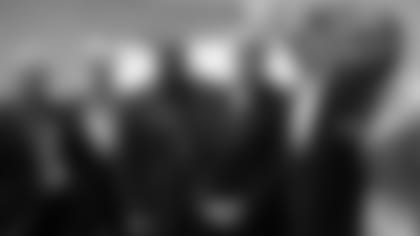 The 2017 recipients of the NFF Scholar-Athlete Award include Reis Padjen from Thornton Fractional South High School, Julio Roldan from Guerin College Prep, Josh Bean from Hinsdale Central High School, Jim Kenneally from IC Catholic Prep and Marcus Stallworth Jr. from Orr Academy.  Each honoree received a partial college tuition scholarship for the 2017-18 school year, courtesy of a joint donation from the NFF and Bears Care, the charitable arm of the Chicago Bears. Scholarship recipients are nominated by their high school football coach each November.
College football players honored during the ceremony included Kendrick Foster from the University of Illinois, Corey Thomas from Northern Illinois University, C.J. Robbins from Northwestern University, and Jamal Towns from Illinois State University, receiving NFF Mental Toughness Awards.  Matt Davis from the University of North Carolina at Pembroke was the recipient of the Fred Mitchell Outstanding Place-Kicker Award.  The event featured a Q&A with Jeff Joniak and Gary Fencik focused on key football leadership lessons, including those that Fencik learned from Buddy Ryan.
Representatives from Chicago Vocational Career Academy were in attendance as well, including athletic director Lamont Bryant and head football coach Larry Williams.  Coach Williams talked about his "can do" positive attitude in dealing with the football program despite challenges in the community, in an effort to overcome the local challenges of violence, gangs, drugs, homelessness and poverty using football as a rallying point.
While the event honored student-athletes for their contributions on and off the football field, it also brought together college coaches, former players, and former NFF Scholar-Athlete Award winners. Bears alumni Mickey Pruitt, Brian Baschnagel, Gary Fencik, Steve McMichael, Glen Kozlowski and Keith Van Horne were in attendance, as well as current Chicago Bear Sherrick McManis and several college football coaches, including Pat Fitzgerald of Northwestern University, Brock Spack from Illinois State University, Luke Butkus from the University of Illinois, Charlie Fisher and Jared Elliott from Western Illinois University, and Shane Richardson from the University of North Carolina at Pembroke.