Tackle Jordan Mills visited Gregory Math & Science Academy in Chicago on Tuesday, October 7 to celebrate the "For the Love of Play" campaign, which encourages kids and adults to be active for 60 minutes of play every day.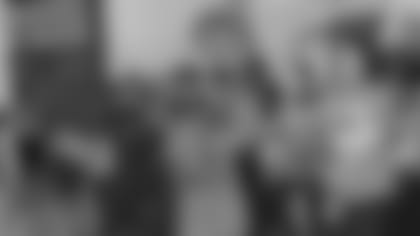 Staley leads an exercise
During the visit, Jordan led students from the school's 12-member Fuel Up to Play 60 team through different physical activities that included weight training, jump rope, and a football skills course. He also spoke to students in grades 5-8 about the ways he got out and played when he was their age, and participated in a Q&A session.
Additionally, Jordan helped announce a $10,000 Chicago Bears Hometown Grant challenge to Network 5 of Chicago Public Schools. Through this challenge, schools within Network 5 will have the opportunity to earn a $2,500 fitness grant based upon their level of involvement in the Fuel Up to Play 60 program.
Fuel Up to Play 60 was created in partnership with the NFL and National Dairy Council, which was founded by America's dairy farmers, in collaboration with the U.S. Department of Agriculture. It is the nation's largest in-school wellness program and creates real transformational change in more than 73,000 schools.