Safety Craig Steltz joined several leading nutrition experts and 17 teams of local elementary and middle school students at a Bears-themed training camp at Soldier Field on Saturday, May 4.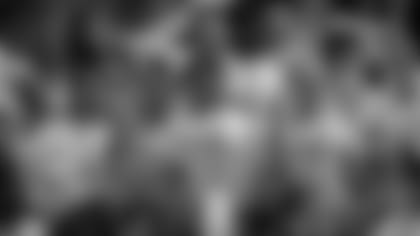 Steltz spoke to the students about the importance of eating healthy and staying active and joined them on the field for physical fitness activities that included a breakfast tray relay, a nutrition challenge, warm-up agility exercises, and passing, receiving and running back drills.
The students also participated in interactive discussions, a poster session and heard a keynote presentation from former Bears wide receiver Anthony Morgan. The student teams earned invitations to the event for actively engaging in the Fuel Up to Play 60 program by encouraging their peers to make healthier choices and commit to at least 60 minutes of physical activity each day. Fuel Up to Play 60 is an in-school nutrition and physical activity program launched by the National Dairy Council, Midwest Dairy Council and the NFL in collaboration with the United States Department of Agriculture.
"Fuel Up to Play 60 is in nearly 73,000 schools across the nation to teach our youth the importance of eating healthy and being physically active, and do it in a way that is fun and motivating," says Melissa Young, director of health and wellness for Midwest Dairy Council. "Student teams participating in the training camp serve as role models for their peers."