The Chicago Bears were thrilled to welcome over 200 students to the PNC Center at Halas Hall for the Fuel Up to Play 60 Students Ambassador Summit on Thursday, July 23. The visit to the Bears training facility was just one activity of many during the four-day event held in Chicago.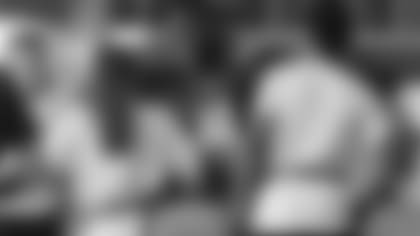 Students with linebacker Sam Acho.
The Summit brought together over 200 student ambassadors from across the country that demonstrate a passion for taking control of their health and wellness, and encourage their fellow students to do the same. They are not only actively engaged and involved in Fuel Up to Play 60, but are leaders among their peers, working to improve physical fitness and nutrition habits within their schools.
The day was split into two sessions, with half of the students attending in the morning, and half in the afternoon. Both groups received a welcome from Bears Chairman George H. McCaskey and then heard from special guest speakers that talked about what makes a great leader and what is considered greatness.
Afterwards, Bears tackle Jermon Bushrod and cornerback Kyle Fuller talked to students in the morning session about the importance of eating right and exercising, and some of the characteristics they think are important in a leader. Students in the afternoon session heard from linebacker Sam Acho and tackle Jordan Mills, who spoke about similar topics. Both the morning and afternoon sessions ended in the Walter Payton Center with flag football games coached by the Bears players.
While the Student Ambassador Summit recognized kids from all over the country, Fuel Up to Play 60 and the Midwest Dairy Association work to recognize students and schools throughout the year who are accomplishing great things locally.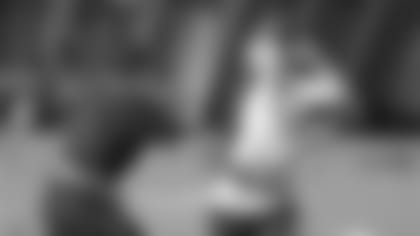 Flag football games at the Walter Payton Center.
The 2015 Fuel Up to Play 60 Rewards Summit was held at the Walter Payton Center on May 16 and welcomed over 100 students from the state of Illinois who actively engaged in the Fuel Up to Play 60 programs at their schools. Cornerback Kyle Fuller and defensive lineman Will Sutton congratulated the kids for their commitment and good work, and led them through a fitness clinic.
Additionally, 77 schools in Illinois were recently recognized as "Touchdown Schools" during the 2014-2015 academic year. These schools were acknowledged for being "best in class" by making sustainable changes in their schools when it comes to making healthier food choices and getting active for 60 minutes a day. Schools implemented initiatives such as walking clubs and in-class brain breaks to increase physical activity, and added grab and go breakfast and yogurt smoothies to fuel up for the day.
Fuel Up to Play 60 is a program founded by the National Dairy Council and NFL, in collaboration with USDA, that empowers students to take charge in making small, everyday changes at school. Students can win cool prizes, like an NFL player visit or Super Bowl tickets, for choosing good-for-you foods and getting active for at least 60 minutes every day. We want kids to make a difference not only in their lives, but also their community.
For more information about Fuel Up to Play 60 and to find out how you can get involved, visit www.fueluptoplay60.com.