Combining his patented ball skills with a physicality that's rare at his position, Bears cornerback Kyle Fuller is playing at an All-Pro level so far this season.
The two-time Pro Bowler has recorded 25 tackles, one interception, five pass breakups and one forced fumble on a jarring hit.
"He can do everything," said coach Matt Nagy. "What you see is a guy that has great ball skills, has really good eyes and vision and is super smart, but then also, he's not scared to go ahead and throw his shoulder pads around a little bit. He's made two really, really big hits; one unfortunately was flagged and the other was a huge play for us."
The first of the two hits that Nagy referenced came in a Week 5 win over the Buccaneers. In the second quarter, Fuller drove his shoulder into the chest of Ke'Shawn Vaughn, separating the running back from the ball after he had caught a Tom Brady pass. A flag was thrown, but officials discussed the play and ultimately ruled it was a legal hit. The call of an incomplete pass was then reversed via a replay review to a fumble that the Bears recovered—and converted into a go-ahead touchdown.
In last Sunday's win over the Panthers, Fuller made a similar hit on receiver Keith Kirkwood, causing an incomplete pass. But the play drew a 15-yard penalty, even though replays showed what appeared to be a shoulder-to-shoulder blow. 
With bang-bang judgment calls like the two involving Fuller not subject to replay reviews, defensive coordinator Chuck Pagano knows that officials have a difficult task. 
"I think it's impossible to officiate," Pagano said. "It's hard on them. It's hard on us. It's hard on the players. He's just playing football. He's getting his head out of the way, he's using his shoulder. [In the] Tampa game, they look at it, they get together and they picked the flag up, and we get the ball. This one [against the Panthers], it didn't work out that way. It's just how things are. 
"We all know the receiver feels this hit coming. So he's got himself in the target zone, but by the time the receiver catches the ball and then he braces, he lowers his helmet. So it's just a byproduct of guys playing and reacting, instincts."
Fuller has also excelled against the run. No tackle he's made this season has been bigger than his touchdown-saving one-on-one open-field stop of Panthers quarterback Teddy Bridgewater at the Bears' 2 last Sunday. The play forced Carolina to settle for a field goal late in the first half.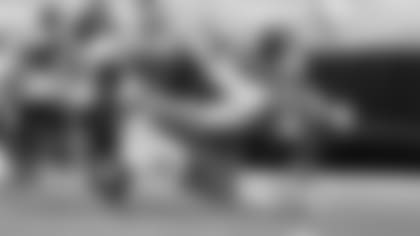 The tackle was very similar to one that Fuller made last Thanksgiving in Detroit on Lions running back J.D. McKissic. On third-and-1 from the Bears' 5 early in the fourth quarter, Fuller stopped McKissic for no gain with a brilliant shoestring tackle, forcing the Lions to settle for a field goal that gave them a 20-17 lead. The Bears rallied for a late touchdown on Mitchell Trubisky's 3-yard pass to David Montgomery, escaping with a 24-20 win.
Fuller's physical style of play is rare at his position.
"We've all seen corners that make business decisions when it comes to tackling," Pagano said. "Some are just 'cat' coverage: 'I've got that cat and you guys can handle the rest of the stuff.'
"He's a physical dude. I think the expectations in the room and the expectations in Chicago for a long, long time are that you come and be a part of this group—coaches, players, whatever—we know what those expectations are. You've got to be a rough rider. He's a rough rider."
Fuller's teammates appreciate his toughness.
"You definitely love a corner that'll come up and hit, like setting edges and things of that nature," said linebacker Roquan Smith. "It definitely makes a defense a lot better when a guy can cover as well as not [being] afraid to put his pads in there. I've got a lot of respect for that guy. I'm extremely happy that the guy's on my team and I love the energy."
"I've never been around a corner that hits like him," added safety Tashaun Gipson Sr., a nine-year NFL veteran. "I've never seen a corner with that type of mindset. It's refreshing to know that, one, your corner's not scared to tackle, but your corner's laying boom-sticks, hit-sticks on people.
"The man can flat out ball, and when you're talking about physical cornerbacks, he's never shied away from contact. And that's refreshing to know that you've got a cornerback that can come in and do that. Kyle's not only a pro's pro off the field, but he's an All-Pro on the field."