Six Chicago area high school student-athletes were honored for their excellence on the football field, in the classroom and in the community during the National Football Foundation (NFF) Chicago Metro Chapter Awards on Monday, February 18 in Westbrook, IL. Jeff Joniak, the voice of the Chicago Bears, returned as master of ceremonies for the event.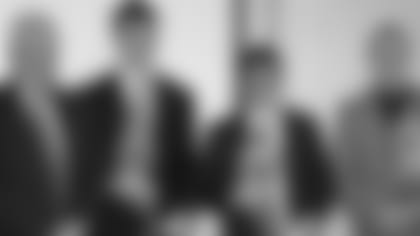 The 2013 recipients of the NFF Scholar-Athlete Award include Nick Colangelo from Lincoln-Way East High School, Connor O'Brien from Lemont High School, and Zach Strittmatter from Batavia High School. The Chicago Bears Community Champion Award winners include Alex Baratta from Hersey High School, Mark Gorogianis from Montini Catholic High School, and Jack Petrando from St. Francis High School. Each honoree received a partial college tuition scholarship for the 2013-14 school year, courtesy of a joint donation from the NFF and Bears Care, the charitable beneficiary of the Chicago Bears. Scholarship recipients are nominated by their high school football coach each November. Since 2006, $104,000 in college scholarships have been provided.
Former Bears kicker Bob Thomas, who has served as an Illinois Supreme Court Justice since 2000, was presented with the Distinguished American Award during the ceremony. He was joined by Bears alumni players Glen Kozlowski and Brian Baschnagel at the event.