Germain Ifedi has only been in Chicago for a few months, but the cause he will represent on Sunday is decidedly local.
Against the Detroit Lions, Ifedi will wear cleats designed to represent the Urban Growers Collective. Like his teammates, Ifedi will participate in the NFL's annual My Cause My Cleats initiative.
Ifedi discovered the Urban Growers Collective in the time between signing his contract with the Bears and moving to Chicago. While watching the Netflix show "Somebody Feed Phil," Ifedi learned about the concept of food deserts. The episode made Ifedi look back on his childhood and relationship with a healthy diet.
"I was born and raised in inner-city Houston," said Ifedi. "Looking back on it, there were not a ton of healthy food options in those parts of town. You see the fast-food restaurants. You see the corner stores. You don't see the stores where you can get healthy food."
Since entering the NFL, Ifedi has worked to keep his diet healthy. At 26 years old, Ifedi has realized that he can't sustain his career if he was as careless with food as he was in his youth. Ifedi now avoids processed foods and gets his protein through fish or plant-based sources.
"The things they do with the food in the city," said Ifedi, "and everything they stand for is principles that I put into my own life and put into my own diet. Older guys taught me earlier in my career that your talent will take you a long way in this business."
The USDA defines a food desert as a low-income area in which more than one-third of the population lives more than one mile (10 miles for rural areas) away from the nearest supermarket.
Laurell Sims and Erika Allen founded Urban Growers Collective in 2017. The organization seeks to fight the food desert status of much of Chicago's South and West Sides by developing a community in which food is grown, prepared and distributed locally.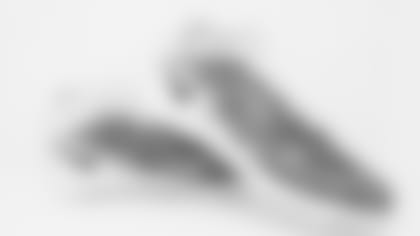 Urban Growers Collective operates eight locations covering 11 acres of land on the South Side. Ifedi was drawn not only to the organization's mission, but also to the way the group provides work and training for residents of the area.
"They have programs teaching youth about growing their own food," said Ifedi. "It's an 18-month program, so this is keeping kids safe and keeping them off the streets. They also have programs for people who are starting their lives over, men and women coming out of prison. It's a program that's doing all the things that are right in the world."
When the Bears take on the Lions Sunday at Soldier Field, some of the players and coaches will be rocking special footwear for the team's My Cause My Cleats game. Take an exclusive look at the spikes that will be worn to support charitable organizations of each person's choice.