Bears defensive coordinator Rod Marinelli started calling Tim Jennings "Hawk" in training camp due to the cornerback's new-found knack for making plays on the ball.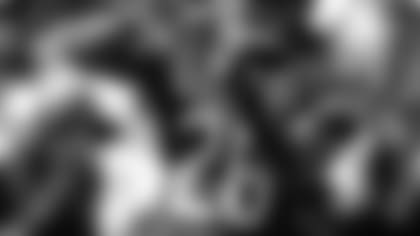 Cornerback Tim Jennings has combined for 11 tackles and 4 interceptions in three games this season.
The nickname certainly didn't apply late last season when Jennings was benched for one game after failing to take advantage of opportunities to generate takeaways. But it fits perfectly now after the 5-8, 185-pounder responded to a challenge from coaches to improve his ball skills.
After re-signing with the Bears in March, Jennings worked diligently on enhancing that aspect of his game throughout offseason workouts and training camp, and the results speak for themselves.
Three games into the season, Jennings tops the NFL with a career-high four interceptions, already matching D.J. Moore's team-leading total from last year. Jennings has also created the Bears' two other interceptions this season by deflecting passes that Chris Conte and Major Wright picked off.
"I just think that lets you know how much hard work pays off," Jennings said Monday, one day after he helped lift the Bears to a 23-6 win over the Rams. "I'm a living testimony of it."
In Sunday's victory, Jennings recorded an interception, deflected a pass that Wright picked off and returned for a game-clinching score, and also broke up a key fourth-down pass.
Bears coach Lovie Smith feels that how Jennings responded to constructive criticism is a valuable lesson for all NFL players, young and old.
"When you're not pleased with a certain part of your game, as coaches we talk about, 'Hey, go back to the practice field,'" Smith said. "If we lose a football game, we go back to the practice field and we have something specific in mind to work on, and that's what Tim Jennings has done.
"He had something specific. He said, ''Hey, I had opportunities. I've got myself in position so many times, but I haven't been able to finish the play. I'm going to work on that, just catching the ball, some basic fundamental things like that.'
"And then you get that momentum. Once you noted what you've worked on and then you see positive results from it, yes, we can all learn from that. That's why the guys are so excited about every play he's making, knowing what all he's gone through."
Jennings liked being challenged by Smith late last season to make more plays on the ball.
"He kind of pointed out a couple of opportunities that I missed out there and I kind of understood where he was coming from," Jennings said.
"He knew I was playing good football. I just had to make the best of those opportunities. Some of them were game-changing. I agreed with him. He wanted me to raise my play and I accepted the challenge. That's what good coaching does. There's nothing threatening about it. They just want to make their players the best players they can possibly be."
During offseason workouts and training camp, Jennings honed his skills by catching about 100 passes per day in individual drills and from a JUGS machine.
That type of dedication has helped him excel so far this season and earn him the "Hawk" nickname that Brian Urlacher mentioned during an interview following Sunday's win over the Rams.
"That's not new," Jennings said of the moniker. "I think coach Marinelli called me that back in training camp. I had a pretty good camp making plays on the ball. I didn't really want to buy into it just yet because I knew it was still early. I heard Brian Urlacher put it out there, so now you guys know about it. I kind of like it, but I didn't want to just put it out there."