Bears quarterback Justin Fields visited Breakthrough Urban Ministries in the East Garfield Park neighborhood Tuesday to spend time talking with over 20 young students, providing insight on his life experiences growing up. 
"I was able to come here and just talk to some kids," Fields said. "It was a Q&A, basically whatever they wanted to ask me and me shedding advice on different stuff like adversity, what happens when you may hit adversity and stuff like that. It was just good to talk to them and be able to come and talk to some kids in the community. So it was fun out here meeting them, definitely had a good time."
Two of Breakthrough's staff members, DeAngelo Johnson and Jimmie Brooks, led the discussion, allowing the kids to ask Fields questions about his childhood, mentorship, football career and general guidance on navigating adversity. 
Fields opened up about the challenges of earning a college scholarship to play football and eventually reaching the NFL. When asked if he ever had thoughts of giving up on his goals, Fields shared the struggles he endured his freshman year of college when he didn't play as much as anticipated, leading him to question, "Do I really wanna play? Do I really wanna do this?"
Fields then told the students: "That's a lesson for all of y'all – just because stuff is not going the way you want it to right now, doesn't mean it's never gonna happen."
From Johnson and Brooks' perspective, one of the most important pieces of advice from Fields was for the young kids to remain as focused on school as much as athletics. Fields detailed how important having good grades were when working toward a college football scholarship, as he wouldn't have been able to play at that level without them. 
"It was a great opportunity to have him here with us today, pretty much being the face of the Chicago Bears, the starting quarterback," Johnson said following Fields' discussion. "For him to be so open and just have that dialogue and those conversations with us, it also showed me and everyone else here, he is a human being too. He goes through adversity and challenges as well and had his struggles through life too."
Following the Q&A, Fields surprised each kid with his #1 jersey and a Bears hat then autographed each one before taking pictures, hanging out with kids and even shooting around on the basketball court. 
While Fields' visit was directed toward the students at Breakthrough, Brooks and Johnson were able to take away lessons about mentorship and providing opportunities for the youth. 
"Never to get to a point where you're too big or your status outgrows your morals," Brooks said of his biggest takeaway from Fields' visit. "I think Justin set a great example of that. No matter how big he is, what crazy schedule he has, he makes time for things like this which is super important to the youth coming up. So that was probably the biggest thing I took away from it, just to never forget where you started and to always give back."
As Fields wrapped up his visit at Breakthrough, he provided one more surprise, gifting Brooks and Johnson tickets to this year's Super Bowl in Arizona as a 'thank you' for their impact on the Chicago community and youth. 
"Speechless, I was so shocked," Johnson said on his reaction to the surprise. "I didn't know what was going on when they called us over there, and then he turned them around and was like, 'you guys are going to the Super Bowl.' I was like, 'wow, this is my first time going to the Super Bowl and an NFL [game] at that.' So for this moment and to have this experience, it's amazing."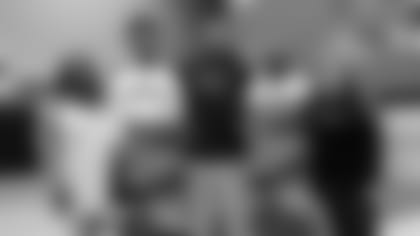 Johnson, Associate Director of Sports & Fitness, and Brooks, Youth Mentor Coordinator, both grew up in East Garfield Park and went through the Breakthrough program when they were young kids. 
Lisa Gwin, the Chief Program Officer of the Breakthrough Youth Network, still remembers tutoring and working with Johnson and Brooks years ago. Being able to play a role in sending the pair to the Super Bowl meant everything to Gwin.  
"I think this is just really special to be able to honor DeAngelo and Jimmie's work here," Gwin said. "They come from the community, they grew up in the community; they faced all of the challenges that communities like us face and to be able to bless them with a once in a lifetime experience and have Justin present that for them, I can't really even put words to how special that is."