Kandace Kmet would have remembered where she was when her son caught his first NFL touchdown pass no matter what. But seeing the milestone live and in-person at Bank of America Stadium in Charlotte was extra special for her.
When Bears tight end Cole Kmet snared a 9-yard touchdown pass from Nick Foles in the first quarter of Sunday's 23-16 win over the Carolina Panthers, the rookie's mom was in the stands in the opposite end zone, cheering wildly in section 205.
"It was exciting to be there," Kandace told ChicagoBears.com. "With everything going on, I just was excited for him and thankful as a parent I was there. It was super exciting because I knew that he was probably so happy that it happened. It was great. It was definitely a great moment."
During the middle of the week leading up to the game, Kandace learned that the Panthers were planning to allow about 5,240 fans to attend the contest—or seven percent of the stadium's 74,867 capacity. With COVID-19 restrictions preventing fans from attending the Bears' first five games this season, it was the first time that Kandace could see Cole play in-person for his hometown team.
Kandace was already scheduled to fly to Florida Monday to meet up with her daughter, a college freshman who has been taking online classes in the Sunshine State. After securing a game ticket from Cole, Kandace went online and booked a flight from Chicago to Charlotte Sunday morning and another from Charlotte to Florida Sunday night. She plans to drive back home with her daughter late this week.
"As a parent, you don't want to miss anything," said Kandace, whose husband, Frank, was a Bears practice-squad lineman in the mid-1990s. "We always try to make their first of something. We have four kids, so we kind of spread pretty thin with them. They're all super busy with their own stuff. But we always try to be there at least for the first of something. This being the first time they allowed fans, there was just something that told me I better get there and make it work, and I'm glad I did."
Cole saw his mom in the stands before the game.
"She was waving like a madwoman pregame," he said. "I found her and gave a little wave. She was pumped up."
Kandace walked down toward the Bears tunnel at the end of the game and took a picture from the stands of her son and offensive lineman Sam Mustipher, who have reunited with the Bears after playing together at Notre Dame.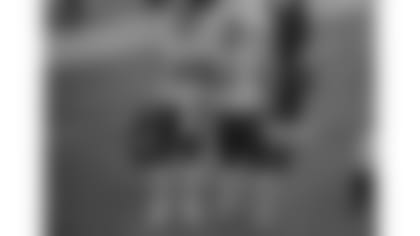 "She was just screaming," Cole said. "I didn't hear a word she was saying, but she was excited."
"This being the first time they allowed fans, there was just something that told me I better get there and make it work, and I'm glad I did." Kandace Kmet, mother of Bears tight end Cole Kmet
For Kandace, the entire day was truly a once-in-a-lifetime experience.
"It was just so great to be there," she said. "I'm so glad they allowed family. Any family that could make it I'm sure was all relieved to finally go and see their kids play, and it was just so great to be able to do that. I was beyond thrilled."