The key to a successful week for the Bears in Indianapolis – between two joint practices and last Saturday's preseason game – was making the environment "feel like Halas Hall."
Two of the most crucial people involved in executing that task were Bears director of operations – logistics Kyle Kelly and head equipment manager Tony Medlin.
Whether that's renting out an entire hotel to create makeshift meeting rooms and a locker room, packing specific blocking pads and cleats for players or setting up a laundry service, Kelly and Medlin do anything it takes for players and coaches to feel comfortable and keep them free of distractions.
"I try to make wherever we go like home," Medlin, who has been with the Bears since 1987, said. "If we're at Halas Hall, it is normal. [If] we go on the road, try to make it as normal as possible. That's how we kind of try to do things here. These types of practices or even games, we go into a new stadium, new locker room, you try to identify it as a Bears locker room, try to identify it as the Bears home."
While preparing for a typical road game – which requires only a one-night stay at the hotel – is second nature for Bears staff, joint practices pose different challenges.
The Bears began setting their travel plans for the 2023 season in February when each team's preseason and regular season opponents are finalized. Kelly learned of the joint practices with the Colts early in the offseason and took a trip out to Indianapolis to scout out the best hotel options – something he also does for each of the Bears' road games.
Kelly—who joined the Bears in 2020 —wants the team to stay at the nicest hotel that is closest to where the players need to be. If it were a normal preseason game in Indianapolis, the Bears would stay downtown, but since the majority of time would be spent at Grand Park north of the city, Kelly had to expand his horizons.
One hotel he found checked every box, when the official schedule dropped in May, Kelly spent hours on the phone with the hotel sales reps, holding his breath and hoping there was still availability. While Kelly's first option ended up working out, it doesn't always shake out that easily. Having several backup options is one of the most important parts of his jobs, but one people rarely notice or think about.
"If you're doing a good job in operations, no one sees you," Kelly said. "You're behind the scenes and everything goes smooth, there's no hiccups. So that team-first [mentality], it's the ultimate support role in my eyes where you're here to help everybody else. So you just want to make sure the players, the coaches have everything [running] smooth. That's kind of the fun part that I like, helping everybody else before yourself."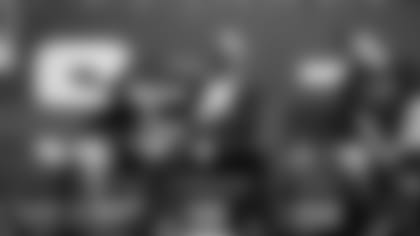 Working closely with Kelly on a daily basis, Medlin also took a trip to Indianapolis this offseason to tour the practice site and the hotel. When visiting Grand Park, Medlin asked questions such as: Where's the locker room? Where do the players get off the bus? Is there security? How are the practice fields? Which field will we be using? What happens if there's a big thunderstorm? Do you have a lightning detector? Will golf carts be provided? 
At the hotel, Medlin needs to know about the laundry system, how the locker room is set up, how the Bears load and unload all their equipment and what the team is allowed and not allowed to do inside the hotel.
Medlin also talked to the equipment managers of teams that have practiced with the Colts before, including the Lions and Panthers. 
While the nearly week-long trip took months of groundwork, last Tuesday morning – the day of the team's departure - caused the most stress for Kelly. As soon as he wakes up, he made his usual round of calls, starting with United Airlines to check in with the plane mechanics. 
Then he talked to weathermen in Chicago and Indianapolis to ensure the flight can take off and land on time. Next was the bus company, confirming their arrival at Halas Hall. Finally, he called the hotel to ask about Monday night's occupancy rate. If anyone checked out late, that could impact players' or coaches' rooms being ready. 
"I think it's just a lot of those [last-]minute details," Kelly said. "People just get on the plane. They see the food on the plane. They see where they sit. So I think the thing that no one sees is just having a plan A, B, C, D. You have to have every scenario laid out ahead of time in case something goes wrong, whether that's the weather, a flight delay, the caterer on a plane's late, a mechanical issue happens with the plane, certain rooms in the hotel go down. So you have plan A that you send to people, but then behind the scenes, you have all those backups."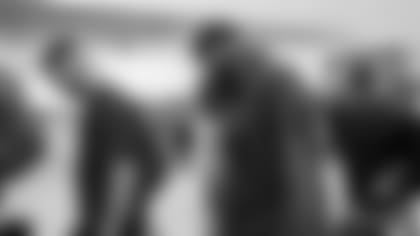 Kelly also checked in with Bears vice president of security John Tarpey and team logistics coordinator Jay Nickell, who traveled to the hotel Monday. Nickell is Kelly's "boots on the ground," and conducts site visits at the stadium, airport and hotel. He checks every single room before the team arrives. Tarpey will meet the buses at the airport and set up the police escort. 
Medlin and a portion of his department also arrived Monday with a 53-foot truck and a 24-foot truck which holds all of the equipment needed for both practices as well as the game. Medlin estimated over 40% of the team's equipment was brought to Indianapolis. 
"We left Monday afternoon after practice and then the other portion of the staff came with the team on Tuesday," Medlin said. "That was good because we're able to go in and get everything pretty much set up before the team got here. It worked out perfectly and I keep saying we're lucky to have enough personnel to do that. You don't always have enough personnel to split like that. But in this case we do, because this is training camp and it was very, very helpful."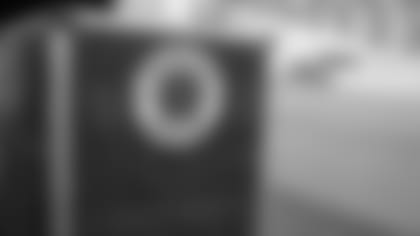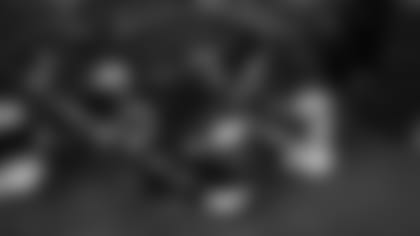 For Medlin and the equipment team, things slowed down a bit once the team arrived at the hotel. Because practices didn't start until 6 p.m. both days, Medlin felt there was more time to plan during the day and prepare for practices. Having a company to pick up and do the laundry also helped, given that is one of the equipment team's typical duties at Halas Hall.
Upon the team's arrival, Kelly's role is to "make sure everything is operating smoothly," adding, "we shouldn't have to do much once we're here." Still, Kelly needs to keep up with any schedule changes and help with any shifts like moving the walkthrough from hotel lobby to the parking lot.
Each night, Kelly will monitor the lobby until players' bed check at 11 p.m., when he heads up to his room to catch up on emails or other work before finally going to sleep at midnight or 1 a.m. He aims to be the first person awake – allowing him just four or five hours of sleep – so he can unlock all the meeting rooms, change the itinerary for the day and ensure he can answer his phone if an issue arises.
While the buildup and execution of a team trip this extensive is stressful, tedious and time-consuming, the result is rewarding for Kelly and Medlin. When they watch the players and coaches settle into the hotel and feel comfortable in the locker room before going out and competing during practice and games, the work becomes worth it.
Like a lot of the Bears football operations staff, Kelly and Medlin need to be in lockstep. The pair met multiple times a day during typical training camp and were always together in Indianapolis, working toward their common goal of a seamless transition from Halas Hall.
"Working with a good staff and everybody understanding what has to be done, I think that's what makes it easy," Medlin said. "Kyle is outstanding; he's been great to work with. So it's really easy. I say easy because the people make it easy, and we have great people. That makes everything kind of go, because we're all trying to do everything we can for our athletes and for the team. That's why we're here and this is all part of us winning a Super Bowl.
"You do what you gotta do and that's the way it works because winning is now. Winning is now. And we win too, when we do what we do. Whatever your role is, whatever your part is, you do it to the best you can do because at some point we all connect no matter what. We all connect somewhere for us to win a Super Bowl, that's just the way it works."