Veteran guard Kyle Long was honored as the Bears' recipient of the Ed Block Courage Award Tuesday by Maryville Academy at Manzo's Banquets in Des Plaines.
The prestigious awards are presented to one player on all 32 NFL teams who best exemplifies a commitment to sportsmanship and courage and serves as an inspiration in the locker room. The award recipients, who are voted for by their teammates, symbolize professionalism, great strength and dedication, and they are considered community role models.
"It's a tremendous honor to be here today," Long told reporters. "I think the more that we can do for others, the better off we'll be for ourselves. Any impact we can have on another person's life and an opportunity to go to bat for somebody who can't go to bat for themselves is something that I stand up for. I'm very happy to be here today, humbled to be voted here by my teammates and my peers. I'm just a microcosm of the locker room. We have many, many guys who could be here today in my shoes."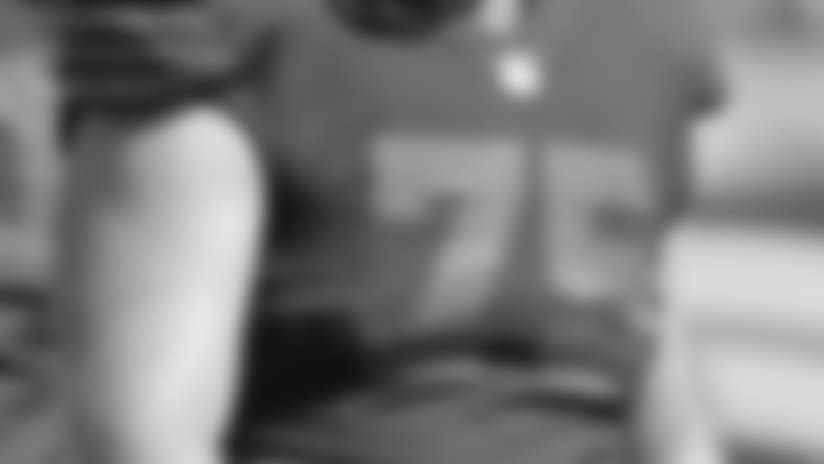 Kyle Long was selected by the Bears with the 20th pick in the first round of the 2013 draft out of Oregon.


The heart, grit and determination that Long demonstrated while battling injuries last year helped him earn the Ed Block Courage Award. The Bears offensive lineman was joined at Tuesday's luncheon by his parents, Howie and Diane Long.
Others who attended the banquet included Bears owner Virginia McCaskey, chairman George H. McCaskey and vice president Patrick McCaskey.
"The Ed Block Award is voted on by his teammates, so that means a lot," said George H. McCaskey. "He overcame a lot last year. He always wanted to be out there for us, and I think that was reflected in his teammates' vote."
The Ed Block Courage Award luncheon also honors the late Ed McCaskey by raising money for a fund in his name that provides high school, college and vocational scholarships to the children of Maryville. During his tenure with the Bears—first as vice president and treasurer and later as chairman and chairman emeritus—McCaskey was known for his generosity to Maryville.
"We go back a long way with Maryville," said George H. McCaskey. "It's a mile-and-a-half from the house we grew up in. On Christmas morning, we'd open all our gifts and when everything was open, dad would say, 'OK, pick one gift. We're going over to Maryville.' That was a tough lesson in sharing, but an important one. And it drove home the point of how important Maryville was to my dad."
Ed Block was a long-time head trainer with the Baltimore Colts who was a pioneer in his field. The foundation promotes the prevention of child abuse by raising awareness of the epidemic and assisting agencies that provide for the care and treatment of abused children.
Block and his wife dedicated their lives to helping children in distress as foster parents and advisers. There are 23 Courage Houses connected with NFL teams and this is the 39th year the awards have been presented.