Bears reserve tackle Cornelius Lucas III was standing at his locker 45 minutes before kickoff Monday night in Washington when he received some important information.
Offensive line coach Harry Hiestand stopped by to give Lucas some coaching points and tell the 6-8, 327-pounder that oh yeah, by the way, he was going to start the game at right tackle.
Veteran starter Bobby Massie had arrived at the stadium suffering from vertigo and was unable to play, thrusting Lucas—who had opened only one game each of the past two seasons with the Raiders in 2017 and Saints in 2018—into the spotlight.
"I didn't really have too much time to really have a true reaction," Lucas said. "I just got the news, went with it and rolled with it."
Matched up most of the game against Redskins star pass rusher Ryan Kerrigan, Lucas performed so well that the offensive line didn't skip a beat. It helped the offense have its best game of the season, scoring three touchdowns and compiling 298 yards in a 31-15 win.
"One guy I thought that played great was Cornelius Lucas," offensive coordinator Mark Helfrich said Thursday. "That was a total surprise to everybody, and nobody blinked. He's going against their best player all night. That was a huge bright spot for that group and just our team in general."
"As an offensive lineman, especially a reserve, you're always preparing for the worst situation," said left tackle Charles Leno Jr. "In that situation, not knowing you're going to play and then boom, you've got to play, to perform like he did, that was awesome."
The effort earned Lucas the Bears' second Sweep the Sheds Award, which is given after every win to a player who is not too big to do the little things.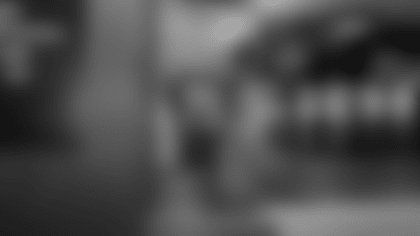 "Sweep the Sheds" comes from a book entitled "Legacy," which details lessons espoused by New Zealand's highly-successful national rugby team known as the "All Blacks." As part of their culture, All Blacks players clean up after themselves in their locker room—literally sweeping the sheds—as a show of humility.
Lucas was presented with the award, which consists of a metal broom and a bear's head. The broom and his jersey will be displayed all week at Halas Hall.
"It means I did something good this week," Lucas said. "I'm just happy I was able to help my team out and happy we got the win. It means keep pushing, keep going forward, keep striving to be better than what I was last week."
Lucas signed with the Bears this year after spending his first five NFL seasons with the Lions, Rams and Saints. He originally entered the league with Detroit in 2014 as an undrafted free agent from Kansas State and appeared in 15 games with three starts in each of his first two seasons.
Lucas credits his success against the Redskins with being ready to play.
"Being a swing tackle, you've got to be prepared to play left or right," Lucas said. "And I feel I did a good job of that, being prepared throughout the playbook. I feel like I was really dialed in."