Veteran long-snapper Patrick Mannelly was honored as the Bears' recipient of the prestigious Ed Block Courage Award Tuesday at Maryville Academy in Des Plaines.
The awards are presented to one player on all 32 NFL teams who best exemplifies a commitment to sportsmanship and courage and serves as an inspiration in the locker room. The award recipients, who are voted for by their teammates, symbolize professionalism, great strength and dedication, and they are considered community role models.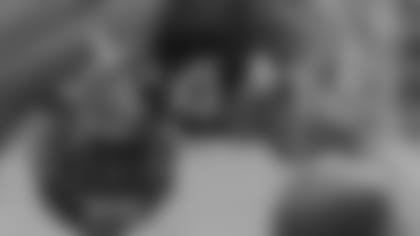 Patrick Mannelly has served as the Bears' primary long-snapper since he was drafted in 1998.
Ed Block was a long-time head trainer with the Baltimore Colts who was a pioneer in his field. The Ed Block Courage Award Foundation promotes the prevention of child abuse by raising awareness of the epidemic and assisting agencies that provide for the care and treatment of abused children.
"I think this is the only award in the NFL that is voted on by just strictly teammates and I know that in our locker room and throughout the NFL that means so much to you," Mannelly said.
"I think when you play sports you play for two reasons: You play for the love of the game and you play for your teammates, and anytime your teammates who you play for vote you any award it means that much to you, and this one definitely does."
The honor was even more special to Mannelly because Tuesday's luncheon also honored the life and contributions of the late Ed McCaskey by raising money for a scholarship fund in his name. Mannelly had a great affinity for McCaskey, who passed away on April 8, 2003 at the age of 83.
"This is a great cause and a great man," Mannelly said. "I think I'm one of the few guys in the locker room that got to be in his presence and experience his great light. It's quite an honor to be able to put this award that I won with his name. I'm very humbled to be here."
During his tenure with the Bears, McCaskey was known for his support of and generosity to Maryville. The memorial fund, which benefits Maryville's education programs, was established to carry on the spirit of giving that was so much a part of his life.
Mannelly, who owns Bears all-time records for games (245) and seasons (16) played, is an unrestricted free agent whom faces an uncertain future following offseason hip surgery. Unsure whether he will be able to continue his playing career, Mannelly got emotional when addressing Bears owner Virginia McCaskey and her sons Patrick and Brian at Tuesday's event.
"I just want to take this opportunity to thank the McCaskeys for my 16 years here," Mannelly said, his voice cracking. "I feel like I'm part of your family. I've got to raise a family here. Sorry I'm emotional. It's just the way I feel about the Bears and thank you very much."