Hall of Fame middle linebackers Dick Butkus, Mike Singletary and Brian Urlacher will take the stage together at the Bears100 Celebration June 7-9 in Rosemont.
But that won't be the only intriguing panel featuring Bears players from the past and present at the weekend event at the Donald E. Stephens Convention Center.
Jim McMahon and Mitchell Trubisky—the last two Bears quarterbacks to be voted to the Pro Bowl—also will be paired for a panel to help the team celebrate its 100th season.
"I'm excited to sit down with him and hang out, get to know him and pick his brain a little bit," Trubisky told ChicagoBears.com. "Obviously he's an iconic Chicago Bear, a Super Bowl champion. It will nice to enjoy a good time with a Chicago legend."
McMahon, now 59, played the game with a unique style. A talented passer who set or tied 56 NCAA records at Brigham Young University, "the punky QB" was a fierce competitor. Brash and cocky, McMahon was beloved by teammates, especially the offensive linemen he head-butted to celebrate touchdowns.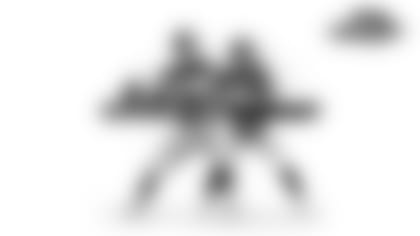 McMahon was rebellious as well. He sported a mohawk haircut and constantly wore sunglasses—primarily due to an eye injury he had sustained as a child. He frequently changed plays called by coach Mike Ditka, incurring Da Coach's wrath. After NFL Commissioner Pete Rozelle fined McMahon $5,000 for wearing an Adidas headband in the Bears' playoff win over the Giants in 1985, the quarterback wore a headband inscribed with "Rozelle" the following week in an NFC Championship Game victory over the Rams.
"I just know he was tough as nails," Trubisky said. "He played the game differently than a lot of quarterbacks during his time, which I feel like I do too. He was a gunslinger and he won ballgames. That's all you can ask for from a quarterback."
McMahon was selected by the Bears with the fifth pick in the first round of the 1982 draft. He played his first seven NFL seasons in Chicago, compiling a sparkling 46-15 record as a starter while passing for 11,203 yards and 67 touchdowns.
Trubisky is eager to spend time with McMahon at the Bears100 Celebration.
"I'm definitely going to ask him about the Super Bowl Shuffle," Trubisky said. "I'm going to ask him how it was playing with Walter Payton and all his other great teammates—and what it really takes to take the team deep into the playoffs and what it truly takes to lead the Chicago Bears to a Super Bowl."
Trubisky seems to have the Bears headed in the right direction. He was voted to the Pro Bowl in his second NFL season last year after leading the team to a 12-4 record and the NFC North title. Starting 14 games, he completed 66.6 percent of his passes for 3,223 yards with 24 touchdowns, 12 interceptions and a 95.4 passer rating. Trubisky also rushed for 421 yards and three TDs on 68 carries.
The Bears100 Celebration will feature the ultimate gathering of Bears fans and current and former players. The entire 2019 team and coaching staff, along with Bears Hall of Famers and alumni, are scheduled to attend. The weekend will include free autograph sessions, photo opportunities, panels, memorabilia and merchandise sales, interactive games, kids activities and a walk-though Bears history zone.