On Friday, March 10, special teams captain and defensive back Sherrick McManis returned to the place where his football career began when he visited his alma mater, Richwoods High School, in Peoria. Sherrick was in town to help present a $25,000 NFL Club Matching Certified Athletic Trainer Grant to three Peoria-area high schools on behalf of the Chicago Bears and the NFL Foundation.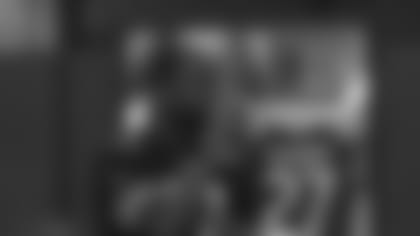 Bears defensive back Sherrick McManis returned to his alma mater and presented a $25,000 grant to three Peoria-area high schools.


The grant will be used to cover the cost of athletic training services at Richwoods High School, Manual Academy, and Peoria High School during the 2017–2018 school year. As a 2006 graduate of Richwoods, Sherrick was greeted by many old and new faces when he returned to the school for the presentation, including his old football coach and the school's current athletic director, Ron Dwyer.
The entire Richwoods student body was present for the assembly, where Sherrick awarded grants of $8,333 to the football coaches a several players from each school. Athletico, the official physical therapy partner of the Chicago Bears, invited each school trainer to the presentation as well, as they will be carrying out the training services next year.
And even though they are Richwoods' cross-town rival, Sherrick was happy to congratulate the players and coaches from Peoria High School for winning the 2016 Class 5A IHSA State Football Championship and wish them well in defending their title.
The Chicago Bears understand the importance of providing access to athletic trainers for youth and high school athletic programs throughout the state. The $25,000 grant to Peoria area high schools was made possible through the Bears donation to Chicago Public Schools in 2016, which provided athletic training coverage through Athletico at each football event held at a CPS location.