Moving from quarterback to receiver at Illinois State in 2013 was more than just a position switch for Cameron Meredith. It turned out to be a life-changing event for the Chicago area native.
After seeing limited action in three games over two seasons as a backup quarterback, Meredith developed into a star receiver. The 6-3, 207-pounder led the Redbirds in receiving with 370 yards and five touchdowns on 21 receptions as a junior in 2013 before blossoming as a senior in 2014, when he led Illinois State with 66 catches and 1,061 yards with nine TDs.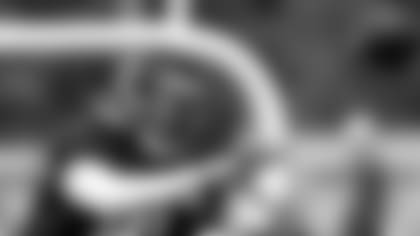 Rookie receiver Cameron Meredith participates in a drill during training camp in Bourbonnais.
Meredith's emergence earned him an opportunity to sign with the Bears as an undrafted free agent—and he made the most of his chance, ultimately earning a spot on his hometown team's 53-man roster.
"It means the world," Meredith said Monday after practice at Halas Hall. "I feel ecstatic. Now I've just got to let it sink in, come out here every day and work my butt off so these coaches know they made the right decision."
Meredith grew up in Westchester, Ill., a west suburb of Chicago. He lettered in football, basketball and baseball at St. Joseph's High, which has produced NBA stars Isiah Thomas and Evan Turner and former Bears tackle Andy Frederick, a member of the Super Bowl XX champions.
As a high school quarterback, Meredith passed for 2,000 yards and 12 touchdowns and rushed for over 400 yards and seven TDs as a senior. He remained a quarterback at Illinois State, redshirting as a freshman in 2010 and then playing sparingly the next two seasons.
"I always had that NFL dream," Meredith said. "But playing quarterback my junior year my coach told me, 'You might not want to play that for much longer.' I was sitting on the bench for so long. I made that transition and it went over well. The first day I ran a bunch of 'go' [routes]. It's been a great ride so far. I'm just trying to get better."
After a slow start in training camp with the Bears, Meredith showed marked improvement and excelled in preseason action, catching nine passes for 86 yards. He earned a roster spot ahead of young receivers Ify Umodu and Rashad Lawrence, both of whom were waived Saturday as part of final cuts.
"Cam was a guy that we liked when we first evaluated him in the local area tryout," said coach John Fox. "I think he just continued to grow and improve."
Meredith feels that he's made huge strides since signing with the Bears in May.
"I'm definitely a lot more confident now," Meredith said. "I've got some game experience under my belt and that definitely helped a lot, going out there and getting your feet wet.
"My technique is a lot better just taking coaching day-by-day and also the other receivers giving me those little tips and pointers. So everything's coming along slow and steady."
While Meredith is more polished now than he was when he joined the Bears, the former quarterback still has miles to go given the limited time he's played the receiver position.
"This is only the beginning," Meredith said. "It's great. It's an honor to be here on this 53-man roster. Now I'm just trying to do everything I can to help the team win and just get better day-by-day and week-by-week."