The Bears on Tuesday honored right tackle Jordan Mills and quarterback Josh McCown as the 2013 winners of the prestigious Brian Piccolo Award during a ceremony at Halas Hall.
The honor has been given to a Bears rookie since 1970 and was expanded in 1992 to include a veteran. Bears players vote for teammates who best exemplify the courage, loyalty, teamwork, dedication and sense of humor of Brian Piccolo, a Bears running back who died from embroyonal cell carcinoma on June 16, 1970 at the age of 26.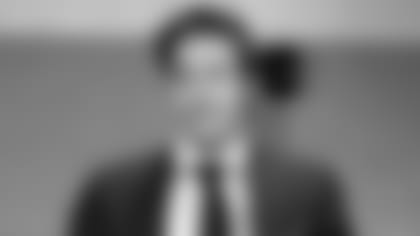 Bears quarterback Jay Cutler accepts the Piccolo Award on behalf of Josh McCown.
Mills started all 16 games at right tackle as a rookie after being selected by the Bears in the fifth round of last year's draft out of Louisiana Tech. The 6-5, 316-pounder was part of a revamped line and record-breaking offense while lining up next to fellow rookie Kyle Long.
In presenting the award to Mills, offensive coordinator Aaron Kromer praised the young tackle for defeating long odds in his trek from a small Louisiana town to the NFL. Kromer also lauded Mills for playing the first series of last year's season finale against the Packers with a broken foot.
 "That's the courage that he exemplifies," Kromer said. "That's why the team chose him. He's a great teammate. He plays next to another rookie, Kyle Long, and those two rookies working together, with his calmness and Kyle's craziness, have had a lot of success."
During a heartfelt speech, Mills thanked God, the McCaskey and Piccolo families, general manager Phil Emery and his staff, Bears coaches and teammates. He identified his fellow offensive linemen by name-the entire unit showed its support by attending the ceremony after a workout-and got a bit choked up when describing Long as his best friend and brother.
Mills also spoke about Piccolo, who joined the Bears in 1965 as an undrafted free agent after leading the nation with 111 points and 1,044 yards rushing as a senior at Wake Forest.
"This award exemplifies a person that throughout his life had to struggle," Mills said. "Being at Wake Forest and the leader rusher and leading scorer his senior year and not getting drafted, most people would have given up after that. But he kept fighting.
"Even though his life and career ended early, cancer did not take his spirit, did not take his will, it did not take his heart, and that speaks volumes to me every day. Even though I may not be the strongest, the fastest or the most athletic, I like to show that I have the will, the heart and the spirit to conquer anything. For me to win this award, it's a true blessing."
Bears quarterback Jay Cutler accepted the veteran award on behalf of McCown, who signed with
the Buccaneers in March as a free agent after excelling while Cutler was injured last season.
In an eloquent speech about his friend and former teammate, Cutler spoke about a selfless player who was committed to the team and determined to help everyone around him improve.
"I'm honored to accept this award on behalf of Josh," Cutler said. "I know he's honored to receive it. Anytime you win an award that's voted on by your players and peers, it's something a little bit more special because we know Josh inside and out.
"We saw him come into the building; one of the first ones in and one of the last ones to leave, every single day working and trying to make himself a better player. That's not where it ended with Josh. He also helped anybody that crossed his path. That's just the kind of guy he was."
Cutler discussed how McCown spent last offseason living at a local hotel with Bears rookies, ordering pizzas and going over the playbook for countless hours.
"Josh didn't know how to say no when it came to helping people or extending himself," Cutler said. "That's a rare quality in this industry and it's a rare quality in people. Josh genuinely cared about others and you could see it every day in how he operated and how he extended himself.
"I'm honored to receive this award for him. My only regret is I wish I would have met him earlier in life. It's very rare to find a teammate that not only makes you a better player but a better person."