Drafted in the 5th round of the 1991 NFL Draft by the Chicago Bears out of Tennessee, Anthony Morgan played six seasons at wide receiver with the Bears and the Green Bay Packers. After his football career, he joined the Christian Valley Missionary Baptist Church in September of 1998 and later became an ordained minister on May 7, 2006. In July of 2012, Morgan joined Trinity International University Athletics as their wide receivers coach.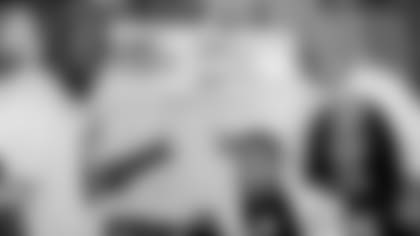 "As a former Chicago Bears player, God has opened up many doors for me to continue to make an impact within the community, continue to help grow the church, and help the next generation of leaders reach their full potential in life," Anthony stated.
For a couple years now Morgan has spread the message about Fuel Up to Play 60 with the Midwest Dairy Association, the NFL and the Chicago Bears. He has become the Bears alumni spokesperson for Illinois. NFL PLAY 60 is the National Football League's youth health and fitness campaign. Designed to help tackle childhood obesity, PLAY 60 focuses on making the next generation of kids the most active and healthy by encouraging them to get at least 60 minutes of physical activity every day.
Morgan has been involved in a variety of activities including the Fuel Up to Play 60 Illinois Governors proclamation in Springfield and delivering the keynote address for Illinois Health and Wellness Conferences. Steve Schneider with the Midwest Dairy Association works with Morgan on a regular basis and is excited to have him onboard.
"As a wide receiver Anthony always wants to get in the game and have the ball thrown his way," Schneider says. "Anthony's talents as a motivational speaker have helped mobilize local Fuel Up to Play 60 program advisor teacher-leaders to implement Fuel Up to Play 60 (www.fueluptoplay60.com) at a deeper level in their schools. Where Anthony really shines is when he connects with kids and motivates them to stay focused on their dreams and make healthy choices in life by sharing his personal story at school assemblies and reward events like our Fuel Up to Training Camp."
Anthony enjoys helping tackle childhood obesity and has been to many schools in the Chicago area.
"I can exhort and edify students to consume nutrient-rich foods and achieve at least 60 minutes of physical activity every day," Morgan said. "Being a former Bears player, I can bring the excitement of the NFL with challenges, prizes and rewards that inspire the students to want to eat like a pro."
Morgan's goal is to empower youth in the Chicago area to take action for the good of their own health by implementing long-term, positive changes for themselves and their schools. He wants to see every young person reach their full potential. Anthony practices what he preaches.
"A healthy lifestyle is vital to me," says Morgan. "I love to workout and run daily. I workout three times a week and I rest my body two days out of the week. I consume my nutrient-rich foods (low-fat and fat-free dairy foods, fruit, vegetables and whole grains)."
Morgan enjoys spreading the Play 60 message and believes together we can tackle childhood obesity.
The Chicago Bears implement the PLAY 60 message through a variety of in-school, after-school, web-based and youth-targeted programs – all emphasizing the importance of physical fitness and healthy lifestyles. The Chicago Bears encourage kids throughout Chicagoland to…Get Up and Play, 60 Minutes a Day!