INDIANAPOLIS – With the No. 1 pick in the draft and ample salary cap space to bolster the roster in free agency, Bears general manager Ryan Poles feels like a kid on Christmas Eve.
"It's hard to sleep right now because you're just thinking about all these things you could possibly do," Poles told reporters Tuesday at the NFL Combine.
"It's a good thing, right? We have flexibility. We have opportunity. We can gather all of that information, and I know our entire front office, our entire organization is pumped, just with the opportunity that we have to do something special."
Possessing the No. 1 pick for the first time since 1947 and enough cap space to seemingly address multiple needs puts the Bears in a unique and enviable position.
"[It provides] a ton of flexibility to take the best player at one or move and continue to add draft capital and get better, which is exciting," Poles said. "And then for free agency, the opportunity to have a little bit more ammunition than we had last year allows us to bring in the right type of players that kind of fit what we're looking for and fit our culture, so again we can keep moving the needle and winning more football games."
"I know our entire front office, our entire organization is pumped, just with the opportunity that we have to do something special." Bears GM Ryan Poles
Poles reiterated Tuesday what he had said Jan. 10 in his end-of-season press conference: that he would have to be "blown away" to spend the No. 1 pick on a quarterback who would presumably supplant Justin Fields as the Bears' starter.
"No, nothing's changed there," Poles said.
Referencing an ESPN "developing story" Monday that the Bears were "leaning toward" not drafting a quarterback and trading down from No. 1, Poles said: "That's always been the case. We've always leaned that way because Justin did some really good things."
Poles acknowledged that trading down from No. 1 to acquire additional assets would be the ideal scenario for the Bears.
"Yeah, it just depends how far back," he said. "But yeah, we need a lot, and that gives us more opportunity to bring in more players. It's a good situation to be in for where our club is. But at the same time, when I talk about where guys are on the draft chart, if we have someone who is so high and in a special category that we said, 'You know what, this guy is going to affect our team both from a culture standpoint and also from a gameday standpoint,' then that might be the best thing to do as well. But in a vacuum, yeah, moving back gives you more opportunities to hit more players and continue to add to the core of this team."
While remaining committed to Fields, the Bears intend to evaluate the quarterbacks in this year's draft.
"I'm excited about where his game is going to go," Poles said. "But at the same time, when you sit in our situation at one overall, you have to do your due diligence, you have to investigate everything, you have to spend time with those guys just to make sure we're making the right decision."
In meeting with the quarterbacks, Poles aims to "get to know the person, what makes them tick." He also wants to learn how they process information and have been taught different concepts.
"That gives you a little bit of guidance of how much they know about ball and where their ceiling is," Poles said.
Poles was asked to define what it would take for him to be "blown away" by one of the quarterbacks in the draft. 
"When you watch it over and over and over and go, 'Wow, this is like different,'" he said. "But it's a collection of anticipation, arm talent, arm strength and accuracy. It's all of the categories that you look for in a quarterback. It's [also] the person. You need to be a unique human being to play this position in this league with this pressure, and just to be able to keep coming game-after-game-after-game. And also critique yourself and get better year-after-year. It's a huge checklist, but we will go down that and make sure we are doing the right thing." 
Poles has kept Fields abreast of the latest developments and plans to continue to do so throughout the pre-draft process so that "nothing is a surprise to him." Poles has already told the Bears quarterback that "there's going to be a lot of noise, and just know that I'm going to keep you up to date with what we're doing and why we're doing it."
Poles reiterated Tuesday what he expressed Jan. 10 about Fields being an impactful playmaker who can change games quickly but needs to improve as a passer. 
In 2022, the former Ohio State star rushed for 1,143 yards—the second most by a quarterback in NFL history—and eight touchdowns and threw for 2,242 yards with 17 TDs, 11 interceptions and an 85.2 passer rating. With touchdown runs of 67, 61 and 55 yards, Fields became the first NFL quarterback with three TD runs of at least 50 yards in a career, let alone one year. 
"Those are those moments that did blow you away," Poles said. "His athletic ability and ability to create explosive plays were special. Now, what we've had discussions about, and I talked openly about it, he's got to take the next step in his game, and I'm excited to see that because I think he's going to."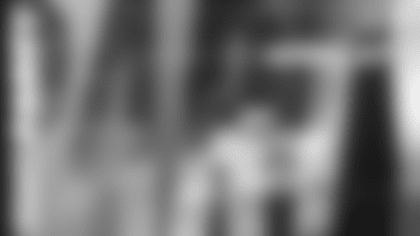 THE BIGGEST BEARS PARTY OF THE YEAR
There's no offseason for the Bears, and this year we're celebrating an historic offseason with the whole family. We'll get together for THE MOMENT we welcome the newest Bears into the family. Join us at Soldier Field for the 2023 Miller Lite Chicago Bears Draft Party, and spend night 1 of the Draft with thousands of your closest friends.
We'll have non-stop Draft coverage and analysis, plus the spring's best party with activities across the Dr Pepper Patio, the Miller Lite Midway, the Verizon Mezzanine and on the field. Tickets for this year's Draft Party are currently sold out. Check back for updated information between now and April 27th. If further tickets become available, you'll hear about it here first.